Siemens to supply and service 130 wind turbines for Kay Wind project • Onshore wind power plant to be located in Kay County, Oklahoma • Clean energy for approximately 100,000 U.S. homes
Siemens has been awarded an order from Apex Clean Energy to supply, support installation and provide long-term service for 130 wind turbines for the 299-megawatts (MW) Kay Wind project to be located in Kay County, Oklahoma. Installation of the wind turbines is scheduled to begin this year, with the start of operations expected for the fourth quarter of 2015. Upon completion of the project, Southern Company subsidiary Southern Power will acquire the wind facility from Apex Clean Energy, marking the company's first wind project. Apex will continue to serve as asset manager of the project. A long-term service and maintenance agreement was also signed for the project and includes Siemens' remote monitoring and diagnostic services, which offer a proactive approach to service and maintenance to help bolster the performance of the turbines during their lifetime.

"Apex is pleased to be working with Siemens to bring the benefits of affordable, renewable energy to Oklahoma and Kansas," said Apex President Mark Goodwin. "This project will help boost the Kay County economy and support local schools, while helping to reduce rates for energy consumers in the SPP system (Southwest Power Pool)."
"We are proud to work with our customer Apex Clean Energy on this project, which gives us the chance to strengthen our position in the U.S. wind market," said Thomas Richterich, CEO Onshore, Siemens Wind Power and Renewables Division.
The 299-MW project is expected to create enough clean energy to power approximately 100,000 average U.S. homes annually. The project will feature 130 Siemens SWT-2.3-108 wind turbines, each with a power rating of 2.3 MW and 53-meter blades. The nacelles for the project will be assembled at the Siemens facility in Hutchinson, Kansas. The blades will be manufactured at the Siemens blade facility in Fort Madison, Iowa. Siemens' Financial Services (SFS) Division has committed to fund up to $80 million of the project's construction financing.
Featured Product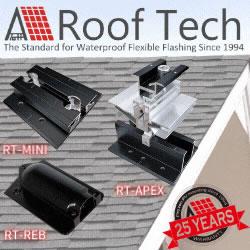 Now Roof Tech brings you the most innovative, watertight mounting systems ever developed for solar photovoltaic systems. Designed and manufactured exclusively for us by Japan's longtime leader in roofing technologies, Roof Tech products are 100% code-compliant and offer fast, simple installation and huge savings on shipping costs due to their compact, rail-less design. Learn more about our full line of versatile PV mounting solutions now available for residential installations. The next generation in rooftop solar mounting solutions."