The project is the largest of its kind in the nation, combining wind and solar energy in unison.
ALAMEDA, Calif., April 6, 2015 -- Blymyer Engineers, the nation's leading utility scale solar design and engineering firm, announced the Red Horse 2 photovoltaic solar project in Cochise County, Arizona is nearing completion. The project is the largest of its kind in the nation, combining wind and solar energy in unison. The facility inked a 20 year PPA with Tucson Electric Power and is projected to provide power to over 13,500 residents in the utility's service area. Blymyer Engineers was chosen as the engineering firm of record by Swinerton Renewable Energy, the EPC constructing the project. Red Horse 2 consists of 69,000 ground mounted tilt axis Jinko Solar PV modules and Advanced Energy inverters, which when fully operational will provide 55 MW (AC) to both residences and businesses in the area. Swinerton is also providing ongoing operations and maintenance services (O&M) for the facility upon completion.

Michael Rantz, President of Blymyer Engineers, said, "We are pleased to offer our engineering capabilities on this important project, which will provide jobs and a reliable source of clean energy to customers for many years to come. It's great to see this project nearing the finish line. We congratulate Tucson Electric Power for their vision and commitment to renewable energy, and are excited to be part of the outstanding group of professionals making Red Horse 2 a success."
About Blymyer Engineers
Founded in 1961 Blymyer Engineers is a premier engineering company actively designing solar and renewable energy projects for clients throughout the United States and internationally. Today with over 1.2 GW of solar power expertise, the company maintains a full time staff of mechanical, electrical, structural and civil engineering in house, and the company is licensed in 37 states. Blymyer Engineers has the largest engineering portfolio of solar projects completed in North America, offering solutions for utility scale and distributed generation projects and numerous commercial applications. For more information on Blymyer Engineers visit the website at www.BlymyerEngineers.com.
About Swinerton Renewable Energy
With over 3 GW of power generation and 630 MW of solar power expertise, Swinerton Renewable Energy offers turnkey solar power solutions for utility-scale and distributed-generation projects, including EPC and O&M services. Recognized since 1888, Swinerton is the preferred builder and partner in every market it serves. www.Swinerton.com.
Featured Product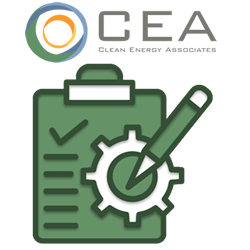 Clean Energy Associates provides a complete quality assurance solution that covers the entire product lifecycle of PV modules, storage systems, and every Balance of Sy stem (BOS) component. CEA's experienced on-the-ground and international team of quality control engineers and account managers offer an unparalleled quality assurance presence that can protect solar and storage investments and ensure future energy-producing viability for the life of the product.