State-of-Art Trackers Deployed in 69 MW SunEdison Solar Power Plant in Atacama Desert
NEXTracker Completes Tracker Commissioning for SunEdison Javiera Solar Project in Chile

State-of-Art Trackers Deployed in 69 MW SunEdison Solar Power Plant in Atacama Desert
FREMONT, CA, APRIL 7, 2015 - NEXTracker, Inc., designer and manufacturer of the worlds most advanced single axis PV trackers, today announced the completion of tracker commissioning for SunEdisons Javiera project in Chiles Atacama Desert. At 69.5 MW, the Javiera project is one of Latin Americas largest utility-scale solar power plants. SunEdison, the worlds largest renewable energy development company, developed and built the system.
"Thanks in part to NEXTrackers independent rows and reduced foundation requirements, our Javiera project was completed in record time - the mechanical aspects of this system were substantially complete in about 2 months," said Sasan Aminpour, Senior VP of Operations, SunEdison. "Collaborating with NEXTracker and building upon best practices pioneered during the construction of our nearby Crucero plant, SunEdison and NEXTracker refined lean construction techniques to dramatically accelerate deployment of a large power plant. NEXTrackers careful attention to component quality and customer support further facilitated the rapid installation."
"Were thrilled to have executed another successful project with SunEdison, a top leader in Latin American and global solar," said Dan Shugar, CEO of NEXTracker. "NEXTrackers higher energy yield and installation cost savings have now been proven across multiple large scale projects in Latin America. NEXTrackers unimpeded row design also provides valuable cost savings for panel cleaning in the dusty Chilean desert, and minimizes site grading requirements."
About NEXTracker, Inc.
NEXTracker (www.NEXTracker.com) offers a significant breakthrough in horizontal tracking, with lower costs, better performance and more flexibility for solar power plants of all sizes. These benefits increase solar project profits for developers, EPCs and system owners. Leveraging world-class design and installation expertise, NEXTracker has delivered trackers for dozens of projects in sizes exceeding 80MW, across multiple continents. Headquartered in Fremont, California, NEXTracker is one of the fastest growing clean technology companies.
Contact: Susan DeVico SusanDV@aol.com
Featured Product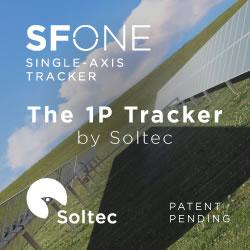 Soltec manufactures and supplies solar trackers designed and proven for extreme climate conditions, which is an ideal solution for any region's environment. Soltec's trackers are self-powered, requiring no additional PV module or grid-powered connection. Bifacial modules collect energy on both the front and rear sides, capturing reflected irradiance from the ground surface under and around the tracker and from other modules. Depending on site conditions, bifacial yield-gain can reach +30 percent.