Indiana ranked 14th in the nation in installed solar capacity last year
WASHINGTON, DC - Powered by a robust utility-scale market, Indiana ranked 14th in the nation in installed solar capacity last year, according to the recently-released U.S. Solar Market Insight 2014 Year in Review. It was the second straight year that Indiana exceeded 50 megawatts (MW) of new installations.

In 2014, Indiana added 59 MW of solar electric capacity, bringing its total to 112 MW. Thats enough clean, affordable energy to power more than 12,000 homes. The report went on to point out that Indianas biggest solar gains came in utility-scale installations, but commercial installations increased, too. Of the new capacity added, 55 MW were commercial, 2 MW were commercial and the nascent residential market added 1 MW. Together, these installations represented a $100 million investment across Indiana.
From an environmental perspective, solar also helped to offset nearly 100,000 metric tons of harmful carbon emissions last year in Indiana - the equivalent of removing more than 20,000 cars off the states roads and highways.
"To put the states solar growth in some context, the 112 MW of solar PV installed today in Indiana is nearly as much as the entire country had installed by 2004. And frankly, the state is just scratching the surface of its enormous potential," said Rhone Resch, president and CEO of the Solar Energy Industries Association (SEIA). "Looking forward, we expect 2015 to be another good year for new PV installations across the state."
Today, there are 65 solar companies at work throughout the value chain in Indiana, employing nearly 1,500 people. Last year, two major solar projects come online in Indiana:
* The Indianapolis International Airport Solar Farm was completed by developer Telamon Corporation and Johnson Melloh Solutions. This photovoltaic (PV) project has the capacity to generate 17.5 MW of electricity - enough to power more than 1,800 Indiana homes.
* At 9 MW, the Indianapolis Motor Speedway Solar Farm is among the largest solar installations in Indiana - and the biggest solar system in U.S. pro sports. Completed by SunWize Technologies and Blue Renewable Energy, this sprawling PV project at the historic Indy 500 Raceway has enough electric capacity to power more than 1,000 homes.
In addition to a growing commercial sector, the Indiana residential market also began to take root last year, with installed system prices dropping by 8 percent - and down a total of 49 percent since 2010. Nationwide, the U.S. residential market added 1.2 GW of installed capacity in 2014, marking the first time that this growing sector surpassed 1 GW of clean, affordable solar. Residential also continues to be the fastest-growing market segment in the U.S., with 2014 marking three consecutive years of greater than 50 percent annual growth.
"Today, the U.S. solar industry employs 174,000 Americans nationwide - more than tech giants Apple, Google, Facebook and Twitter combined - and pumps nearly $18 billion a year into our economy," Resch added. "This remarkable growth is due, in large part, to smart and effective public policies, such as the solar Investment Tax Credit (ITC), Net Energy Metering (NEM) and Renewable Portfolio Standards (RPS). By any measurement, these policies are paying huge dividends for both the U.S. and Indiana economies, as well as for our environment."
Featured Product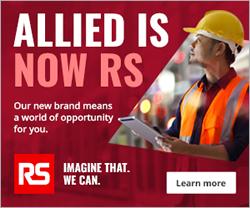 Based off the design pioneered by Anderson in 1953, the two pole SB® connectors set the standard for DC power distribution and battery connections. SB connectors feature a rugged one-piece plastic housing using stainless steel springs to retain the contacts and create the "contact force" that provides extremely low resistance enabling greater electrical efficiency. The SB connectors are also genderless (flip one 180 degrees and they will mate to each other) reducing the customer's bill of materials and providing greater economies of scale when purchasing. The SB series of connectors range in size from SB50 to the SB350. Each family size offers color-coded, mechanically keyed housings designed to prevent both visually and physically cross-mating devices with different voltages. All the connectors are UL rated to 600 volts, so the keys and colors are just identifiers to prevent accidents. Contacts are traditionally Silver plated to minimize electrical resistance while offering supreme durability and reliability.