Napanee solar integrator receives 2015 Urban Initiatives Award for developing solar solutions that create sustainable communities and economic growth
Napanee (Ontario) April 16, 2015. Strathcona Solar Initiative, a multiple award winning full service integrator in Southeastern Ontario, was recently honored with the 2015 Urban Initiatives Award by the non-profit group SWITCH Ontario. Presented at the organizations annual Green Profit Conference in Kingston, the award recognizes members who excel at enabling urban communities to commit to their renewable energy goals and integrate sustainable energy technologies into the region.

Since its founding in 2009, Strathcona Solar Initiatives has designed, engineered and installed thousands of kilowatts of high-yielding solar trackers, rooftop solar applications, as well as ground-mount PV installations throughout Ontario. With its focus as a full-service provider, the company has helped hundreds of home and business owners and municipalities by conducting site evaluations regarding the feasibility of solar energy, completed the application process for FiT and micro-FiT projects, and continues to monitor and maintain the panels after installation for optimal energy production.
"Strathcona Solar Initiatives is a SWITCH Member that has shown that renewable energy is not just the right choice for the environment and a more sustainable future, but also the right choice for creating jobs and spurring economic development in Southeastern Ontario," said SWITCH Executive Director Tyson Champagne. "The company is a perfect match for the criteria of the Urban Initiatives Award and SWITCH looks forward to continuing to support the company as it grows."
The fast growing demand for reliable and high-yielding photovoltaic installations and energy systems has prompted the company to launch an international holding group last fall. As a highly diversified enterprise, the Strathcona Energy Group specializes in vertically integrated solar energy products and services, ranging from manufacturing and assembly, to sales and installation, and financing and after-sales services across North America.
In October 2014, Strathcona Solar Initiatives also opened a new 60,000 square feet manufacturing plant in Napanee which employs around 50 workers producing a ground-breaking new type of solar module for national export as well as global distribution. Recently the company also acquired the 300,000 square foot Nortel building in Belleville which will enable to group to expand its state-of-the-art manufacturing capacity even further, creating about 120 jobs beginning in the later part of 2015.
"The support of Switch Ontario has been a huge help for us from the very start," says Karl Hollett, the CEO of Strathcona Solar Initiatives and its parent company Strathcona Energy International. "It has provided us with an established, high-profile network of likeminded experts in the sustainability landscape and has played a tremendous role in the widespread acceptance for solar energy in Ontario. While I thank you wholeheartedly for honoring us with the Urban Initiatives Award, I also want to thank you for all your work and dedication to enable Ontario to switch to renewable energies."
About Strathcona Solar Initiatives — Full Service Solution
Strathcona Solar Initiative (SSI) is an award-winning full service solutions provider that specializes in the design, installation and maintenance of solar projects and initiatives. Also founded in 2009, the company provides client-specific sales, engineering as well as operational support for solar applications such as high-yielding solar trackers, rooftop solar, ground-mount solar, solar pumps and solar lighting. All solutions are engineered using only the highest quality components and workmanship from proven global partners to guarantee exceptional and quality laden customer results.
www.strathconasolar.com
About Strathcona Energy Group - Making Energy Together
Founded in 2009, Strathcona Energy Group (SEG) is a highly diversified holding company based in Ontario, Canada that specializes in providing vertically integrated renewable energy solutions with locations in both Canada and the United States. Its current and wholly-owned participants include Strathcona Solar Initiative (SSI) and Strathcona Energy International (SEI).
www.strathconaenergy.com
About SWITCH Ontario
SWITCH is an incorporated not-for-profit, sustainable energy association that works to position the Southeastern Ontario region as a leading centre for sustainable energy. The organization excels at generating partnerships, building networks, and driving the growth of green business. It is a hub and source of technical information related to sustainable energy. SWITCH brings together urban and rural businesses, researchers and innovators, educational institutions, the public sector, and a variety of community-minded people working to create a green future.
www.switchontario.ca
Media Contact
Susanne F. Quinn, Head of Corporate Communications
Email: Susanne.Fischer-Quinn@strathconaenergy.com
Phone: +1 (478) 230-3347
Featured Product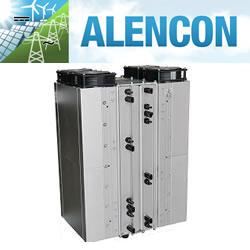 Alencon Systems is the premier manufacturer of high power, high voltage DC:DC optimizers for alternative energy applications including solar, battery energy storage, Microgrids, Fuel Cells and Electric Vehicle charging. Alencon's DC:DC converter offerings include the SPOT, BOSS and CUBE series DC:DC converters. The SPOT is a modular, uni-directional DC:DC solution ideal for solar applications. The BOSS is a modular, bi-directional unit for use with battery energy storage. The CUBE is a monolithic DC:DC converter which is available in both uni-directional and bi-directional modalities. Pictured above, is the Alencon SPOT.