IHS solar experts to share their latest outlook and perspectives on development strategies for the global PV markets to Shanghai conference attendees
SHANGHAI, China (April 16, 2015) - IHS Inc. (NYSE: IHS), the leading global source of critical information and insight, today announced the companys roster of speakers and topics for the upcoming SNEC 9th (2015) International Photovoltaic Power Generation Conference & Exhibition to be held at the Kerry Hotel Pudong, Shanghai, April 27 to 30, 2015.

IHS, which acquired Solarbuzz in 2014, is a co-organizer of the "Industry Workshop on Global PV Market—Outlook and Development Strategies," to be held on April 29. Also serving as co-organizers are Bloomberg New Energy Finance and Energy Trend.
Now in its ninth year, the SNEC Expo is the largest photovoltaic power-generation conference and exhibition in Asia. It focuses on PV production equipment and materials, PV cells and components and engineering systems. "IHS is one of the leading sources of information on the solar PV market, and we are pleased that they will provide their comprehensive data and keen market insight to our attendees," said Mi Yue, Secretary General of SNEC 2015.
"Conference attendees at the SNEC Expo will be supported by the latest PV industry information that will help their companies make business decisions," said Ash Sharma, senior research director for IHS. "As SNEC is the largest solar conference in Asia Pacific, our IHS analysts will focus their attention on the regions activities and trends, while also providing a global context. IHS is honored by the SNECs invitation to have our experts offer the latest analyses about the solar PV market in Asia Pacific and around the globe."
Demand for solar PV is forecast to increase significantly in 2015, after a temporary slowing of growth in 2014, as solar PV installations continue to rise globally. During the "IHS Market Briefing Session" of the workshop, IHS PV market analysts will cover the following topics:
"Global PV Market in 2015: What Will Drive Growth?" by Sharma will include the most recent forecasts of global solar demand, Chinas role in this growth, and insight into the state of PV in the United States, U.K., India, Thailand, and other leading growth markets.
"Global PV Module Supply: What does the future look like?" by Jessica Jin, senior analyst of PV supply chain at IHS, will highlight the outlook for the PV module supply chain and discuss the impact of the various ongoing trade cases on industry development.
"The Top Three Trends in the PV Inverter Market" by Cormac Gilligan, senior analyst for PV inverters and balance of system at IHS, will cover the PV inverter market development, and the latest moves by leading suppliers and the methods used by those suppliers to achieve strong and lasting industry growth as it continues to consolidate.
"Opportunities and Challenges for Energy Storage in PV" by Isabella Ni, senior analyst for energy storage and PV demand at IHS, will explain how the growing demand for electricity, and increasing renewable penetration, are driving a need for energy storage; this talk will also cover barriers to deployment and the latest technologies that are poised to change the energy storage market landscape.
A panel discussion will follow the IHS market briefing session. There will be opportunities to ask questions of IHS speakers after their presentations and the panel discussion. To schedule one-on-one interviews, please contact the IHS press team at Press_APAC@ihs.com. For more information, and to register for the conference, visit here.
About SNEC (www.snec.org.cn)
SNEC PV POWER EXPO is the most influential and professional large-scale PV trade show in the world. It features a showcase of solar PV solutions including PV manufacturing facilities, materials, PV cells & modules, PV application products, and PV project and system, covering every section of the whole PV industry chain. The 2015 edition of the show expects more than 1,500 exhibitors, 180,000 sq. meters space and over 200,000 visits.
Conference programs will include the Solar Leaders Dialogue, Scientific Conference, Global PV Financial Summit, Global PV Power and Energy Storage Summit, Industry Workshops on Advanced PV Technologies and Global PV Market. Among the PV industry issues to be covered: government incentives, development trends, technical upgrading, conversion efficiency, PV systems, smart grid connection, and financing and risk, among others.
About IHS (www.ihs.com)
IHS (NYSE: IHS) is the leading source of insight, analytics and expertise in critical areas that shape todays business landscape. Businesses and governments in more than 150 countries around the globe rely on the comprehensive content, expert independent analysis and flexible delivery methods of IHS to make high-impact decisions and develop strategies with speed and confidence. IHS has been in business since 1959 and became a publicly traded company on the New York Stock Exchange in 2005. Headquartered in Englewood, Colorado, USA, IHS is committed to sustainable, profitable growth and employs about 8,800 people in 32 countries around the world.
Featured Product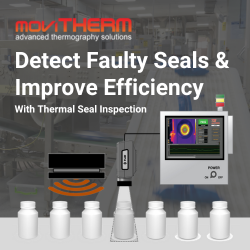 MoviTHERM's Thermal Seal Inspection (TSI) solution provides precise and reliable detection of defects in a variety of packaging types, including pouches, bags, blister packs, bottle caps, and more. By detecting defects in your packages, the TSI solution helps increase efficiency in your production line and ensures top-quality packaging is delivered to your customers every time. With state-of-the-art technology and an experienced team, MoviTHERM is dedicated to delivering accurate inspection solutions and peace of mind to its clients. Contact MoviTHERM today to learn more about their thermal seal inspection solution.