Battery/Storage companies raise $69 million; Energy Efficiency companies raise $140 million
Austin, TX - April 20, 2015 - Mercom Capital Group, llc, a global clean energy communications and consulting firm, released its report on funding and mergers and acquisitions (M&A) activity for the Smart Grid, Battery/Storage and Energy Efficiency sectors for the first quarter of 2015.

Smart Grid
Venture Capital (VC) funding in the Smart Grid sector in Q1 2015 came in at $185 million in 15 deals, compared to $59 million in 13 deals in Q4 2014. There were four early stage deals, including three Series A and one Seed funding deal in Q1.
Chart: Mercom Smart Grid VC Funding Q1 2014-Q12015
There were 37 total VC investors including one accelerator who participated in VC funding rounds this quarter. Within Smart Grid, Smart Grid Communications Technology companies received the most funding. EnerTech Capital was the only investor participating in multiple deals this quarter with three.
The top VC funded deal in Q1 2015 was the $115 million raised by SIGFOX, a wireless connectivity solutions provider for smart metering, building intelligence and M2M using ultra narrow band technology. Other top deals for the quarter were the $15 million raised by Tempered Networks, a cyber-security company; the $14 million raised by Blue Pillar, a provider of software-based solutions for real-time visibility and control into distributed energy assets; the $11 million raised by Enbala Power Networks, a provider of demand-side grid optimization services for commercial and industrial large-scale electricity users; and the $8.4 million raised by TROVE Predictive Data Science, a provider of applications for load forecasting, revenue protection, demand-side management and program planning for utilities.
Chart: Mercom Smart Grid - Top 5 VC Funded Companies in Q1 2015
There were seven Smart Grid M&A transactions (four disclosed) totaling $196 million. The top disclosed transaction was the acquisition of AlertMe, a home automation platform, energy monitoring and control, and analytics provider, by British Gas (part of the Centrica plc group) for $100 million. Bluegiga Technologies, a Finland-based provider of short-range wireless connectivity and software solutions for home automation and industrial automation, was acquired by Silicon Labs for $61 million. RadioPulse, a Seoul-based developer of ZigBEE for AMR, wireless automation, home network and high technology markets, was acquired by IXYS for $22.5 million. Detectent, a provider of utility data analytics solutions, was acquired by Silver Spring Networks for $12 million.
Battery/Storage
VC funding for Battery/Storage companies came to $69 million in seven deals, compared to $47 million in seven deals in Q4 2014. The top deals include the $20 million raised by Boston Power, a manufacturer of lithium-ion batteries for electric vehicles and stationary energy storage, and the $20 million raised by Sakti3, a developer of solid-state rechargeable lithium-ion battery technology. Eos Energy Storage, a developer and manufacturer of zinc hybrid cathode energy storage solutions for electric utilities, raised $15 million. TAS Energy, an energy storage solutions provider that combines turbine chilling with thermal energy storage tanks, raised $10 million, and ZAF Energy Systems, a developer of nickel-zinc and zinc-air battery technologies, raised $2.2 million.
Chart: Mercom Battery/Storage - Top 5 VC Funded Companies in Q1 2015
There was just one debt and public market financing deal announced for Battery/Storage technology, the $130 million raised by Bloom Energy, a manufacturer of solid oxide fuel cell technology products.
There were five M&A transactions in the Battery/Storage category, of which only two disclosed funding amounts totaling $2.3 billion.
Energy Efficiency
VC funding for the Efficiency sector came to $140 million in 15 deals, compared to $192 million in 25 deals in the previous quarter. The top VC deal was by Verne Global, a developer of energy efficient data centers, securing $98 million, followed by Terralux, a designer and manufacturer of LED lighting and building intelligence solutions, which raised $11 million. RayVio, a solid state ultraviolet LED solutions provider, raised $9.3 million. Tendril, a provider of an open, cloud-based energy services management software platform that delivers the infrastructure, analytics and understanding required to personalize energy usage, raised $7.2 million; and Lucid Design Group, a provider of a building operating system platform for intelligent buildings that connects hardware, software and people through a collaborative interface, raised $5.9 million.
Chart: Mercom Energy Efficiency - Top 5 VC Funded Companies in Q1 2015
Efficiency companies also raised $183 million in debt and public market financing in three deals in Q1 including one IPO. MLS, a Chinese LED manufacturer and the parent company of USA-based Forest Lighting, raised $154 million through its initial public offering and began trading on the Shenzhen Stock Exchange in China in March 2015.
There were 11 M&A transactions in the Efficiency sector, of which five disclosed details totaling $3.1 billion, compared to 10 transactions disclosed for $131 million in Q4 2014. The largest disclosed transaction was the $2.8 billion acquisition of an 80.1 percent interest in Lumileds, a Royal Philips LED lighting components business, by GO Scale Capital Investment Consortium, an investment fund sponsored by GSR Ventures and Oak Investment Partners.
For a copy of the report, visit: http://bit.ly/MercomSGQ12015
About Mercom Capital Group
Mercom Capital Group, llc, is a global communications and research and consulting firm focused on cleantech. Mercom delivers market intelligence and funding and M&A reports covering Smart Grid, Solar, and Wind and advises companies on new market entry, custom market intelligence and strategic decision-making. Mercom's communications division helps companies and financial institutions build powerful relationships with media, analysts, local communities, and strategic partners. About Mercom: http://www.mercomcapital.com. Mercom's clean energy reports: http://store.mercom.mercomcapital.com/page/.
Featured Product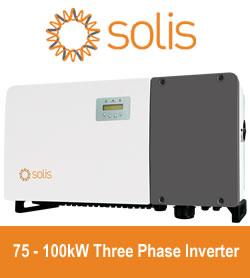 Solis75kW - 100kW series high-power string inverters are widely used in industrial and commercial rooftops. Solis's new three-phase string inverter is the first choice for industrial and commercial photovoltaics. 75-100kW three phase series string inverter have Maximum 28 strings input, support "Y" type connection in DC side. Maximum string input current 13A, support bifacial modules access.Supports anti-PID function to improve system efficiency.