ZephIR 300, a continuous wave (CW) wind LiDAR provides high resolution measurements at an unmatched data rate of 50Hz.
April 21, 2015

Sidney, BC Canada
AXYS Technologies Inc. (AXYS) has achieved a world-first that is likely to become the new standard in floating LiDAR devices by deploying a dual ZephIR 300 arrangement on the leading WindSentinel buoy. The WindSentinel 'floating laboratory delivers a customized full suite of meteorological and metocean data, in addition to the wind speed & direction data used for resource assessment, to better inform the development of offshore wind farms.
The AXYS WindSentinel combines the well-proven NOMAD buoy designed to perform in harsh marine weather and the ZephIR 300 continuous wave (CW) wind LiDAR with more than 200 individual IEC compliant performance validations. The AXYS design philosophy for reducing risk associated with met data acquisition provides dual or even triple redundancy on all major components. Further, the inclusion of two wind LiDARs allows for staggered servicing of the wind measurement sensors to permit continuous data capture during the campaign.
Terry Tarle, President & CEO at AXYS commented on the world-first launch, on show at Ocean Business 2015, Southampton, UK: "Every element of our WindSentinel floating LiDAR buoy aims to include the best-in-class of each and every sensor, cable and connector. ZephIR 300 is a proven market leader in the LiDAR sector and providing clients with an option for dual deployment really does offer an unparalleled level of risk reduction. We are also pleased to now offer 'Data as a Service to the industry with no need to acquire technology, just the high quality data it provides. We can mobilise to any site, anywhere."
ZephIR 300, a continuous wave (CW) wind LiDAR provides high resolution measurements at an unmatched data rate of 50Hz. Every second, 50 points are measured in the free space targeted by the sensor, and chosen by the user, anywhere from 10 metres (33 feet) up to 200 metres (656 feet). This type of CW wind LiDAR gives very accurate measurements of the wind speed, direction and other characteristics including Turbulence Intensity (TI). ZephIR 300 is also the single most validated wind LiDAR at a consistent IEC compliant met mast site.
Ian Locker, MD at ZephIR LiDAR welcomed the news: "We have been working with AXYS since 2007 where we installed ZephIR offshore on a purpose built meteorological station. Almost a decade later and AXYS are now delivering fleets of their WindSentinel floating LiDAR buoys for offshore wind resource assessment at a fraction of the cost, and time, of a traditional fixed met mast. This new standard for dual ZephIR 300s provides real benefit in continuous data capture even during service periods which can be made out of sync."
For more information please visit: www.zephirlidar.com and www.axystechnologies.com
Featured Product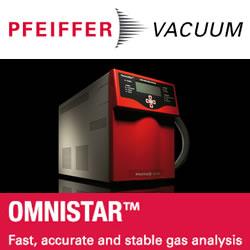 The Pfeiffer Vacuum OmniStar benchtop analysis system offers you a compact footprint, powerful software and Ethernet connectivity. It's the optimum solution for many real-time gas analysis applications. With the OmniStar, Pfeiffer Vacuum offers you a complete solution for gas analysis, in chemical processes, semiconductor industry, metallurgy, fermentation, catalysis, laser technology and environmental analysis. The turnkey OmniStar gas analysis system consists of heated, temperature-regulated gas inlet system, Quadrupole mass spectrometer, a dry diaphragm vacuum pump and HiPace turbopump. Unlike competing methods such as FTIR, OmniStar is suitable for qualitative and quantitative analysis of most gases.