If you're heading to All-Energy, the UK's largest renewable energy exhibition and conference, being held in its new home, the SECC in Glasgow on Wednesday 6 and Thursday 7 May, there's a new tool to help you plan your visit effectively, the All-Energy 'Plan your Day' App.
If youre heading to All-Energy, the UKs largest renewable energy exhibition and conference, being held in its new home, the SECC in Glasgow on Wednesday 6 and Thursday 7 May, theres a new tool to help you plan your visit effectively, the All-Energy 'Plan your Day App.

You'll be able to find suppliers and navigate the exhibition floor, plan your attendance at conference sessions, arrange meetings with industry suppliers and colleagues, and get access to special offers and competitions. You can download it from the App Store or Google Play.
"We are delighted by how things are shaping up," says Event Director, Jonathan Heastie of Reed Exhibitions. "We have had tremendous support from a vast number of organisations in Glasgow to ensure that our move from Aberdeen has gone smoothly, and we are cautiously optimistic that attendance figures will be considerably higher than in 2014, for throughout our registration campaign registrations have been running well ahead of last years figures. Our exhibition is larger than last year and we are excited to have 116 exhibitors who have not been with us before."
Whats on offer?
So, whats on offer at All-Energy 2015, the fifteenth show in the annual series? Theres a wealth of information at www.all-energy.co.uk and you can register free of charge at www.all-energy.co.uk/register.
In a nutshell, and all these component parts are free of charge for those with a business/professional interest in the topic:
• There are over 450 exhibitors from 20 countries: Austria, Belgium. Canada, China, Czech Republic, Denmark, Finland, France, Germany, India, Indonesia, Ireland, Italy, Lithuania, Netherlands, Norway, Spain, Sweden, Switzerland, and United Kingdom. Fifteen sector-specific trails help visitors find their way to the exhibits they deem of most interest - and yes, the App can help you there, as can paper-versions of each trail.
• The world-class conference features two compelling plenary sessions, one featuring Scotlands Energy Minister, Fergus Ewing and industry 'heavyweights; and the other looking to the future of energy; and then on each day breaks into nine parallel streams.
These sessions offer discussion, debate and knowledge sharing on every form of renewable generation; finance and funding; the grid and energy systems; energy storage; hydrogen and fuel cells; sustainable transport; skills; renewable heat; carbon capture and storage - and look too at the development of sustainable cities; at business energy efficiency; community projects, and local carbon economies; and at renewables for the farming community.
• The 'Meet the Buyers Share Fair enables visitors (and exhibitors) to hear what those behind such developments as the two offshore windfarms who were winners in the CfD auction - East Anglia 1 and Neart na Gaoithe - need in their supply chain. (Other presentations embrace needs as different as onsite and energy efficiency solutions for the global mining industry where c3% of the worlds energy is used to crush rocks; and SSEs innovative Open4Business and involving several of their stakeholders. Following morning presentations, afternoon 1-2-1 meetings are the order of the day.
• The quick fire seminar areas do just what they say on the proverbial 'tin, offering quick fire presentations on wave and tidal developments (both days); on community energy projects and getting them off the ground (Day 1); and on business energy efficiency (Day 2) with some compelling case histories, followed by 1-2-1 meetings to find out how you can emulate their success. Lunchtime quick fire offshore wind sessions are being held in the Offshore Wind Conference Theatre which (like the Sustainable Cities Theatre) is a 'silent conference hall designed to eliminate the ambient noise from the exhibition floor.
• UK Trade & Investment is offering 1-2-1 meetings with their experts from 17 countries - Abu Dhabi, Algeria, Czech Republic, Denmark, Egypt, Ethiopia, Finland, Germany, Japan, Jordan, Mexico, Morocco, Nigeria, Poland, Russia, Turkey and USA for those UK companies eager to export.
• The Giant Networking Evening, which this year will be held just across the river from the SECC, at Glasgow Science Centre offering opportunities to explore the centre, try out and learn from the exhibits, but above all to network at the Civic Reception hosted by Glasgow City Council and All-Energy.
Even before the show opens
The afternoon before the show opens (5 May) sees two workshops taking place. Following two years of intensive work, the DTOcean - Design Tools for Ocean Energy Arrays - project takes the alpha-version of its design tool on the road for a test drive with its most important user projects: pioneering project developers, utilities, OEMs, technology developers and supply chain actors.
Meanwhile, SMRU Marines workshop aims to get input into the first results of a project on a review of current and future 'Low visibility real-time monitoring techniques for monitoring marine animals during seismic surveys. Booking information for both workshops is available on the Associated Events page of the All-Energy website www.all-energy.co.uk/Show-Features/Associated-Events/ .
In the evening of 5 May the Glasgow Science Centre will host 'Powering the Future: Lets Talk About It, the first in a series of informative events promoting dialogue between experts and invited public around 'energy-related themes taking place at the Centre. The events format will be that of a round-table discussion focussing on themes surrounding the 'Energy Mix. Further information at www.glasgowsciencecentre.org/special-events/lets-talk-about-it.html
And, on both show mornings (6 and 7 May), Glasgow Chamber of Commerce, in association with Aberdeen & Grampian Chamber of Commerce, will stage Warm-Up breakfasts - booking details at www.glasgowchamberofcommerce.com/news-media/glasgow-buzz/2015/march/30/all-energy-to-have-chamber-warm-up-sessions/
Supporters and sponsors
Shepherd & Wedderburn is sponsoring all the conference and seminar theatres on the showfloor (offshore wind, sustainable cities, and the quick fire seminar theatres); ScottishPower Renewables is sponsoring registration and the banners around Glasgow; Centrica is sponsoring the bags, Gaia Wind the visitor badges and Café, and Element Power is once again sponsoring The Power Club and its executive lounge for those responsible for the management and development of new renewable projects. The hydropower trail is sponsored by the British Hydropower Association and the onshore wind one by Ecocel Renewables.
All-Energy is held in association with UK Trade & Investment, the Renewable Energy Association, Highlands & Islands Enterprise, Scottish Enterprise and Aberdeen Renewable Energy Group (AREG), with the Society for Underwater Technology as its Learned Society Patron, and supported by over 30 government departments, professional bodies, learned societies and trade associations.
Admission to the major exhibition, the multi-stream conference, and Giant Networking Evening is free of charge to all with a business/ professional interest in renewable energy, and business energy efficiency, there is no admission to anyone under the age of 16.
Further information on all aspects of All-Energy, including registration, travel and accommodation is available from www.all-energy.co.uk
Looking back
All-Energy 2014, the fourteenth to be held in Aberdeen, saw total attendance of 6,875; 450 exhibiting companies from 19 countries; and over 400 speakers taking part in 95+ hours of conference and seminar sessions.
Featured Product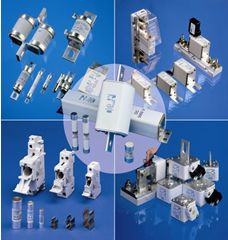 SIBA Fuses: your trusted source for all your circuit protection applications, from solar power to wind power. We are the world leaders in these applications and the most trusted name for your circuit protection needs. We have been working for over 70 years in semiconductor fuses, including ULTRA RAPID®, medium, and high voltage, standard European, miniatures, electronic fuses, and a wide range of DC rated fuses (24 VDC - 5000 VDC) for all types applications. We work with medium and high voltage fuses for protection of transformers, including submersibles, motors, medium and high voltage switchgear, compact substations, cable feeders, and high voltage capacitor circuits. New: Full line of PV UL Listed fuses and fuse holders. Contact us today for more information on our products and services.