AES announces the expansion of its existing fleet into new markets, including the Companys first utility scale project within the Midcontinent Independent System Operator (MISO) in the United States and the first two projects in Europe.
ARLINGTON, Va.--AES Energy Storage today unveiled a portion of its deployment roadmap for AES AdvancionTM Energy Storage Solutions, which includes the addition of battery-based storage resources across the US, South America, and Europe. Projects in construction or late stage development are expected to deliver 260 MW of interconnected battery-based energy storage, equivalent to 520 MW of flexible power resource, 25% of which is expected to be on-line by mid-2016. These projects are in addition to the 86 MW of interconnected energy storage, equivalent to 172 MW of resource, AES currently has in operation.

Today, AES announces the expansion of its existing fleet into new markets, including the Companys first utility scale project within the Midcontinent Independent System Operator (MISO) in the United States and the first two projects in Europe. Considerable expansions are underway in existing markets, including California, PJM Interconnection and Chile. AES Energy Storage is also actively developing a pipeline of additional projects in multiple global markets.
"The electricity grid is poised for a major transformation and AES is proud to work with leading utilities and power systems to bring advanced storage to a new scale," said John Zahurancik, President of AES Energy Storage. "Energy storage is lowering costs and improving critical grid infrastructure for customers around the world."
PJM: AES Warrior Run project under construction in Cumberland, Maryland, adds to AES installations in West Virginia, Pennsylvania, and Ohio that supply critical grid stability services across the PJM territory. The project is part of a series of expansions under development for this market.
Chile: AES third energy storage project in Northern Chile is currently under construction. This project integrates advanced battery-based energy storage with a 532 MW thermal power plant to provide reliability services to Chiles northern grid.
Western Europe: This spring, AES will begin construction on its first advanced energy storage projects in Europe - in Northern Ireland and the Netherlands. Both will provide fast, accurate power to improve grid efficiency and reliability assisting with grid integration and operations. AES will be the first to deliver advanced energy storage projects of this scale in both countries, providing safe and emissions-free power, supporting regional wind integration and lowering overall cost to consumers.
MISO: AES project in Indiana will be the first utility scale storage project in MISO. AES performed its initial storage pilot work in Indiana in 2008. The new project will deliver enhanced reliability and ancillary services, including frequency regulation and peak power.
California: As previously announced, AES is proceeding with the deployment plan for its Alamitos Energy Center storage project in Long Beach, CA. This local capacity resource will supply fast acting power for Southern California Edison customers under a 20-year Power Purchase Agreement.
"By choosing storage as a smart alternative, progressive utilities, power system operators, and policy makers are improving lives through lower cost, increased use of renewables, and higher reliability," said Praveen Kathpal, Vice President of AES Energy Storage. "Were excited to work with our customers and partners to provide resilient, cost-effective power in the US and around the world."
About AES Energy Storage Solutions
AES is a leader in commercial energy storage, which enables utilities, power markets and renewable developers to manage projects from concept to operation with a market-proven solution. The companys AdvancionTM energy storage solutions unlock value from existing power infrastructure, improving flexibility and reliability of the power system, and providing customers with a complete alternative to traditional peaking power plants. AES introduced the first grid-scale advanced battery in commercial power market service in 2008 and operates the largest fleet of battery-based storage assets in service today. The company works with utility partners and other customers to deliver the value of advanced storage in the US and around the world. To learn more, please visit www.aesenergystorage.com or @aes_es on Twitter.
About AES
The AES Corporation (NYSE:AES) is a Fortune 200 global power company. We provide affordable, sustainable energy to 18 countries through our diverse portfolio of distribution businesses as well as thermal and renewable generation facilities. Our workforce of 18,500 people is committed to operational excellence and meeting the worlds changing power needs. Our 2014 revenues were $17 billion and we own and manage $39 billion in total assets. To learn more, please visit www.aes.com. Follow AES on Twitter @TheAESCorp.
Featured Product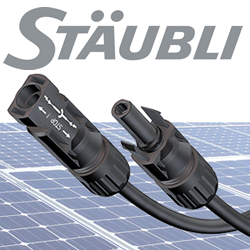 ​Stäubli Electrical Connectors are used on more than 300 GW, over 50% of the PV capacity worldwide. The MC4 family of UL and TUV listed products include connectors, in-line fuses, branch connectors, cable assembly and more.