The fifth edition of International Trade Fair for Renewable Energy and Energy Efficiency will take place on 22-24 September in Expocentre EXPO XXI in Warsaw.
Renewable energy and its sources have recently become a particularly up-to-date topic, especially since the law on RES was finally signed. The interest in the subject is growing, yet the statistics show that so far, unfortunately, the increase in the use in renewable energy sources in Poland is fractional. What creates a chance and hope to significantly improve the statistics are prosumers (persons who produce goods for their own use). It is them who will benefit mostly from the provisions of the law on RES coming into effect in 2016. Until now, the only concern of the prosumers was for the installations to produce energy to cover their household needs. From now on, however, they will be able to sell any excess of the produced energy to the electrical grid in accordance with the feed-in tariff. The amount of compensation depends on the type and the rated power of the system. The feed-in tariff rates are 0,75 PLN (about 0.18 EUR for systems up to 3 kW installed power) and 0.45 PLN (about 0.11 EUR) to 0.70 PLN (approx 0 17 EUR) for systems between 3 kW to 10 kW. This is a huge benefit for all of us, as well as for our environment which keeps being contaminated by a variety of factors.

The 5th international Trade Fair for Renewable Energy and Energy Efficiency RENEXPO Poland, which will be held on 22-24 September in Expocentre EXPO XXI in Warsaw, is the right place to learn about the latest and the most important information on RES and energy efficiency. Specialized conferences and trade forums accompanying the fair will definitely make the event noteworthy and rich in information for anyone interested in the broadly defined subject of RES.
Highly popular International Conference on Photovoltaics in Poland will be organized in cooperation with the Polish Society for Photovoltaics already for the 5th time. This year it will aim to present the latest technological innovations in this industry, both in Poland and abroad. Another topic widely discussed will be the one of heat pumps. It is this topic that the fourth PORT-PC Congress, organized by the Polish Organization of Heat Pump Technology Development, will be devoted to. For those interested in hydropower engineering, we recommend the 5th Conference on Water Energy in Poland entitled "Today and tomorrow of hydropower engineering in Poland and EU" which will take place in cooperation of Polish Hydropower Association (TEW), Association for Small Hydropower Development (TRMEW), The Szewalski Institute of Fluid-Flow Machinery - Polish Academy of Sciences and REECO Poland. Let us not forget about the equally interesting topic of biofuels which will be discussed during another - already the 4th Conference organized by The Polish National Chamber of Biofuels. Anyone interested in obtaining detailed information on the changes connected with the RES law, particularly regarding prosumers, should participate in the '2nd Conference on Social Aspects of RES' organized in cooperation with the Institute for Security, Energy and Climate Studies.
Moreover, those connected by any means with the biogas industry cannot miss the Biogas Forum which will be held for them for the 4th time.
More information on the conferences and trade forums is available at the following link: http://www.renexpo-warsaw.com/index.php?id=326&L=1
As every year, the prestigious RENERGY AWARD will be awarded in the categories of: Outstanding Personality - for a person who plays an important part in the field of renewable energy and energy efficiency, and Innovative Technology - for a company which will present the most innovative technology during the RENEXPO Poland 2015 trade fair.
Let us bear in mind that the fair is not only the exhibition, but also a transfer of the knowledge in the field of renewable energy, along with the future energy security in European Union and Poland. Therefore, high quality conferences and trade forums organized during RENEXPO Poland are of great interest. This is reflected in the participation in the Fair of such companies as: Selfa GE S. A., Airon Investment S.A., CORAB Sp. z o.o., GALMET SP. Z O.O. SP.K, Remor S. A., Novavis S. A., Atlantic Polska sp. z o.o., Fronius International GmbH, IBC SOLAR s. r. o., Jinko Solar GmbH, Renusol GmbH, JA Solar GmbH.
It is necessary to pay more attention to renewable energy sources and numerous unconventional solutions which are beneficial not only with regard to the protection of environment, but they will also concern economic and political aspects. Let us not forget that the development of power industry based on renewable energy sources and supported with activities aimed at improving energy efficiency is our future, as well as the energy and ecological security of our country. This makes events such as RENEXPO Poland even more important, as they become a major element of the energy-related breakthrough in Poland for which the most favourable time has just come. Małgorzata Bartkowski, Project Manager of RENEXPO Poland, invites you to the Fair with these words: 'Ladies and Gentlemen, let us meet at RENEXPO Poland and be a part of the RES revolution in Poland'.
More information: www.renexpo-warsaw.com
Featured Product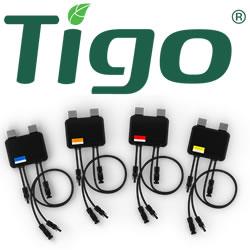 Tigo will announce the new product launch of the patented UHD-Core TS4-A (Advanced Retrofit/Add-on) Platform at SPI 2019. The new TS4-A-M (Monitoring) & TS4-A-S (Safety) units have improved lightweight hardware and lower labor costs to address a range of functions and budgets. The TS4-A-M allows module-level monitoring via Tigo's SMART Website & App. The TS4-A-S is UL-certified as a rapid shutdown solution for residential and C&I PV system. Both units join the Tigo's multivendor solution that works with almost any inverter and smart module in the global PV market. Contact sales@tigoenergy.com for pricing, shipping, and availability in Q4'19.