Ballard Power Systems today announced that it has received a purchase order from Reliance Jio Infocomm Limited (RJIL) for 100 ElectraGen™-ME fuel cell backup power systems to be deployed in its wireless telecom network in India.
VANCOUVER, CANADA - Ballard Power Systems (NASDAQ: BLDP; TSX: BLD) today announced that it has received a purchase order from Reliance Jio Infocomm Limited (RJIL) for 100 ElectraGen™-ME fuel cell backup power systems to be deployed in its wireless telecom network in India. Shipment of these initial 100 systems is expected to be completed in 2015.

The purchase order follows successful completion of an extensive 12-month trial by RJIL of fuel cell systems from various vendors, with Ballards ElectraGen™-ME methanol-fueled system ultimately having been selected for use in backup power applications. This purchase order is the first of a series of planned deployments in RJILs India network.
"This is an important commercial milestone for our telecom backup power growth strategy in a major emerging market," said Steve Karaffa, Ballards Chief Commercial Officer. "Based on the performance and value demonstrated by our systems throughout the trial, we are now advancing to extensive commercial deployments with a major telecom service provider."
RJIL is a subsidiary of Reliance Industries Limited, India's largest private sector company with businesses across the energy and materials value chain and a strong presence in the rapidly expanding telecommunications and retail sectors. As the only company with a pan-Indian broadband wireless access license, RJIL is in the process of building out a new 4G telecom network, which requires the acquisition of hundreds of new base station towers.
India is one of the fastest growing telecommunications markets, with more than 10 million new subscribers added each month, according to the Groupe Speciale Mobile Association (GSMA). This growing demand for telecom services is also driving increased energy consumption in India, a challenge given the poor quality of the countrys electrical grid.
According to a KPMG report, approximately 300,000 telecom towers in India face electrical grid outages in excess of 8-hours on a daily basis. As a result, telecom network operators have been relying on diesel generators and lead-acid batteries to provide backup power, resulting in the consumption of more than 475 million gallons (1.8 billion litres) of diesel fuel annually, with the attendant negative greenhouse gas impacts. Therefore, there is an acute need for reliable and cost-effective extended duration backup power solutions - such as the ElectraGen™-ME fuel cell system - at telecom base station sites.
To limit the environmental impact, Indias Department of Telecommunications has mandated that tower companies reduce the dependence on diesel generators by powering at least 50% of rural towers and 20% of urban towers with clean energy systems by 2015. Increasingly, telecom network operators in India are considering zero-emission fuel cell technology as an extended-duration solution that effectively addresses this clean energy requirement.
About Ballard Power Systems
Ballard Power Systems (NASDAQ: BLDP; TSX: BLD) provides clean energy products that reduce customer costs and risks, and helps customers solve difficult technical and business challenges in their fuel cell programs. To learn more about Ballard, please visit www.ballard.com.
This release contains forward-looking statements concerning market growth drivers, product attributes and corresponding value propositions for our customers, as well as follow on orders from our customers. These forward-looking statements reflect Ballards current expectations as contemplated under section 27A of the Securities Act of 1933, as amended, and Section 21E of the Securities Exchange Act of 1934, as amended. Any such forward-looking statements are based on Ballards assumptions relating to its financial forecasts and expectations regarding its product development efforts, manufacturing capacity, and market demand.
These statements involve risks and uncertainties that may cause Ballards actual results to be materially different, including general economic and regulatory changes, detrimental reliance on third parties, successfully achieving our business plans and achieving and sustaining profitability. For a detailed discussion of these and other risk factors that could affect Ballards future performance, please refer to Ballards most recent Annual Information Form. Readers should not place undue reliance on Ballards forward-looking statements and Ballard assumes no obligation to update or release any revisions to these forward looking statements, other than as required under applicable legislation.
This press release does not constitute an offer to sell or the solicitation of an offer to buy securities. The Ballard Common Shares have not been registered under the United States Securities Act of 1933, as amended, or the securities laws of any other jurisdiction and may not be offered or sold in the United States absent registration or an applicable exemption from registration requirements.
Further Information: Guy McAree +1.604.412.7919, media@ballard.com or investors@ballard.com
Featured Product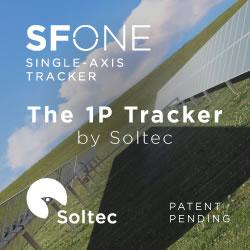 Soltec manufactures and supplies solar trackers designed and proven for extreme climate conditions, which is an ideal solution for any region's environment. Soltec's trackers are self-powered, requiring no additional PV module or grid-powered connection. Bifacial modules collect energy on both the front and rear sides, capturing reflected irradiance from the ground surface under and around the tracker and from other modules. Depending on site conditions, bifacial yield-gain can reach +30 percent.