Eaton to showcase its B-Line series 4Dimension strut system for the oil and gas industry at the 2015 Offshore Technology Conference from May 4 to 7 in Houston, booth #3517.
PITTSBURGH--Power management company Eaton announced a new structural support system that transforms infrastructure support applications to yield dramatic efficiency improvements. Eatons B-Line series 4DimensionTM strut system revolutionizes how support systems are designed and installed in new and retrofit applications. The superior strength, lighter weight and improved functionality allow industrial, commercial and data center customers to compress project schedules, reduce material costs, save space and increase configuration flexibility.

Eaton will display the new 4Dimension strut system as well as other structural solutions for oil and gas applications that save weight and improve performance at the 2015 Offshore Technology Conference (OTC) May 4 to 7 at NRG Park in Houston, booth #3517. Attendees will learn how Eaton helps optimize performance to lower cost of ownership and reduce complexity through innovative electrical and industrial solutions and advanced techniques that include its B-Line series High Performance Cable Ladder (HPL).
"Eaton is revolutionizing critical support systems, bringing a new dimension of form, function and flexibility to electrical, mechanical, HVAC and plumbing applications," said Joe Kline, senior vice president and general manager, Eatons B-Line division. "We worked with our customers to reinvent critical infrastructure support systems, which had not seen much innovation in over 40 years. Today, Eaton is helping customers save upwards of 50 percent on materials and installation time with the 4Dimension strut system."
A functional replacement for back-to-back strut systems, the new strut system provides considerable cost and material savings. Eaton developed its B-Line series 4Dimension strut system to deliver multi-sided functionality, superior strength, a lighter weight and modular design. The 4Dimension channel is roll formed, which helps improve the overall strength-to-weight ratio of the steel. The new systems multi-sided functionality yields up to a 50 percent reduction in material costs and its innovative trapeze hangers can help reduce installation time by up to 50 percent.
The 4Dimension strut system is designed for a variety of commercial and industrial applications and is compatible with many traditional strut fittings and profiles. The solution also includes fittings and accessories that can often substitute the need for special orders requiring welded configurations.
Eaton offers a broad range of B-Line series support systems, seismic bracing solutions, electrical enclosures and wireways designed to save time and deliver a lower total installed cost. The products offered serve customers in commercial construction, oil and gas, mining, solar, communications and data centers, and other markets.
Eatons electrical business is a global leader with expertise in power distribution and circuit protection; backup power protection; control and automation; lighting and security; structural solutions and wiring devices; solutions for harsh and hazardous environments; and engineering services. Eaton is positioned through its global solutions to answer todays most critical electrical power management challenges.
Eaton is a power management company with 2014 sales of $22.6 billion. Eaton provides energy-efficient solutions that help our customers effectively manage electrical, hydraulic and mechanical power more efficiently, safely and sustainably. Eaton has approximately 102,000 employees and sells products to customers in more than 175 countries. For more information, visit www.eaton.com.
Featured Product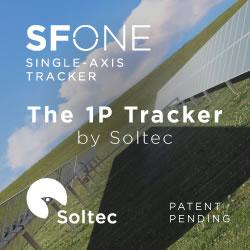 Under the slogan "engineered for greatness", the SF8 tracker aims to revolutionize the photovoltaic market with its new minimum 2x60 configuration and 4 to 6-strings. This tracker is elegantly designed while it reinforces its structure to perform in any terrain. In addition, the SF8 tracker increases the rigidity of its structure by 22% more than the previous generation of Soltec trackers, the SF7. The SF8 is specially designed for larger 72 and 78 cell modules, an increasing market trend.