North America leads the market today, but the largest market over the long term is likely to be Asia Pacific, report concludes
BOULDER, Colo.--A new Tracker report from Navigant Research tracks data on known grid-tied and remote microgrid projects in the operating, planned/under development, and proposed stages, including specific information on the capacity of systems using diesel, combined heat and power (CHP), solar PV, wind, and fuel cells.

A host of new government programs supporting microgrid deployments has been launched in the last 12 months, especially on the East Coast of the United States. The majority of these projects are proposed or are under early development, and are not actually delivering energy services today, but they are expected to come online within the next few years. Click to tweet: According to a new report from Navigant Research, total identified microgrid capacity has grown from 4,393 megawatts (MW) in the second quarter of 2014 to more than 12,000 MW today.
"If one looks at the microgrids that are currently online, North America still leads, with a market share of 66 percent, the same as the data presented in 2Q 2014," says Peter Asmus, principal research analyst with Navigant Research. "In terms of projects planned or underway, however, the 2Q 2015 Tracker supports the idea that Asia Pacific will probably emerge as the market leader over the long term."
In terms of segments, the report finds, the remote segment is the clear leader in terms of both numbers of projects and overall capacity, representing 46 percent of the total microgrid market. This represents a doubling of its market share compared to data collected in 2Q 2014.
The report, Microgrid Deployment Tracker 2Q15, tracks data on known grid-tied and remote microgrid projects in the operating, planned/under development, and proposed stages in six principal geographies. The report covers seven microgrid segments: commercial/industrial, community, utility distribution, institutional/campus, military, remote systems, and direct current (DC) systems. Specific information is provided on the capacity of the following generation assets: diesel, combined heat and power (CHP), solar PV, wind, and fuel cells. The Tracker also details the rated capacity, duration, and types of energy storage for each project and breaks out data by world region and microgrid segment. An Executive Summary of the report is available for free download on the Navigant Research website.
About Navigant Research
Navigant Research, the dedicated research arm of Navigant, provides market research and benchmarking services for rapidly changing and often highly regulated industries. In the energy sector, Navigant Research focuses on in-depth analysis and reporting about global clean technology markets. The teams research methodology combines supply-side industry analysis, end-user primary research and demand assessment, and deep examination of technology trends to provide a comprehensive view of the Energy Technologies, Utility Transformations, Transportation Efficiencies, and Buildings Innovations sectors. Additional information about Navigant Research can be found at www.navigantresearch.com.
About Navigant
Navigant is a specialized, global professional services firm dedicated to assisting clients in creating and protecting value in the face of critical business risks and opportunities. Through senior level engagement with clients, Navigant professionals deliver expert and advisory work through implementation and business process management services. The firm combines deep technical expertise in Disputes and Investigations, Economics, Financial Advisory and Management Consulting, with business pragmatism to address clients needs in highly regulated industries, including Construction, Energy, Financial Services and Healthcare. More information about Navigant can be found at navigant.com.
Featured Product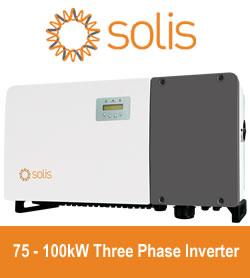 Solis75kW - 100kW series high-power string inverters are widely used in industrial and commercial rooftops. Solis's new three-phase string inverter is the first choice for industrial and commercial photovoltaics. 75-100kW three phase series string inverter have Maximum 28 strings input, support "Y" type connection in DC side. Maximum string input current 13A, support bifacial modules access.Supports anti-PID function to improve system efficiency.