70+ Rhode Island workers will build and operate nations first offshore wind service workboat
May 18th 2015, North Kingstown, Rhode Island - Groundbreaking agreement enables high-speed catamaran ferry company Rhode Island Fast Ferry to commission first US-built crew transfer vessel, to be built by Blount Boats, and launch Atlantic Wind Transfers, its commercial wind support services division.

This long-term charter services agreement is the first deal of its kind to be signed in the United States and marks another significant milestone in the successful development and deployment of US offshore wind. Expectations within the North American offshore wind market have escalated in recent months and this exclusive first charter services deal provides further tangible proof of the benefits and commercial potential that the wind sector can deliver.
"We are very excited to be a part of this offshore wind farm project and to work with Deepwater Wind. Launching Atlantic Wind Transfers and building the first crew transfer vessel in the Unites States with local company Blount Boats is not only good for the State of Rhode Island, but it will also provide for future growth and enhance the capabilities of our company in the US offshore energy sector," said Charles A. Donadio, Jr., President, Rhode Island Fast Ferry.
As part of the charter agreement with Deepwater Wind Block Island, LLC, a subsidiary of Deepwater Wind, Rhode Island Fast Ferry (Atlantic Wind Transfers) will build a dedicated wind turbine transfer vessel and develop an extensive training program for its transfer services crew. Rhode Island Fast Ferry will be investing over $4 million to build the vessel and provide training to meet the needs of the Block Island Wind Farm. The construction of the transfer vessel is being undertaken by local Rhode Island shipyard, Blount Boats, where the contract will secure employment for 70 workers throughout the 12-month build.
Marcia Blount, President of Blount Boats, stated, "We are honored to be chosen to build the first U.S. flagged windfarm vessel in the United States. The vessel is designed specifically for turbine transfer service. We enthusiastically join an all Rhode Island team of windfarm, operator, and boat builder."
Rhode Island Fast Ferrys subsidiary brand, Atlantic Wind Transfers, will provide crew and equipment support during the construction phase of the Block Island Wind Farm, beginning in Spring 2016. Following completion of the 30MW five-turbine site, work will move into operations and maintenance support, to encompass a scheduled maintenance program as well as any additional crew transfer support required throughout the 20-year lifecycle of the first US offshore wind farm project.
Thanks in part to the long-term nature of the charter agreement and the strong working relationship that has already been built between Deepwater Wind and Rhode Island Fast Ferry, this deal will create long-term, local Rhode Island jobs. Each workboat that is chartered to an offshore wind farm typically requires a crew of 5-6 full-time, skilled employees working year round..
Rhode Island Fast Ferry was awarded the inaugural charter agreement thanks in part to its offshore operating experience, its impeccable safety record and its catamaran water jet experience. In addition, the firms established location and dockage facility at Quonset Point will provide Atlantic Wind Transfers and Deepwater Wind quick and convenient access to the Block Island Wind Farm site using the new crew transfer vessel.
"Were excited to partner with two veteran Rhode Island companies that will bring their decades of experience to supporting our Block Island Wind Farm," said Jeffrey Grybowski, Deepwater Wind CEO. "Most importantly, this will mean more jobs in the marine trades for Rhode Islanders and another way that the Ocean State will lead the growth of this new American offshore wind industry."
"Im delighted to support Deepwater Winds efforts throughout the wind farms offshore construction and operation and to demonstrate our own personal commitment to the offshore wind sector through the launch of our subsidiary brand, Atlantic Wind Transfers," added Donadio.
An official keel laying ceremony at Blount Boats in Rhode Island, where the workboat will be officially inaugurated, is planned for later this summer.
Featured Product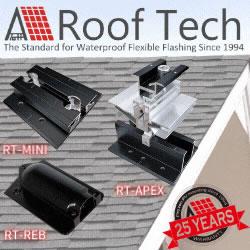 Now Roof Tech brings you the most innovative, watertight mounting systems ever developed for solar photovoltaic systems. Designed and manufactured exclusively for us by Japan's longtime leader in roofing technologies, Roof Tech products are 100% code-compliant and offer fast, simple installation and huge savings on shipping costs due to their compact, rail-less design. Learn more about our full line of versatile PV mounting solutions now available for residential installations. The next generation in rooftop solar mounting solutions."