Industry-leading solar mounting company with engineering roots in the automotive industry provides racking for GM facility
BALTIMORE - May 19, 2015 - Applied Energy Technologies (AET), a preferred supplier of commercial and utility-scale racking systems and one of the top 10 solar racking companies in the United States, was selected by Empower Energies to provide its Rayport-B roof ballast mounting system at GMs Baltimore Operations facility in White Marsh, MD. This manufacturing campus already featured a 1.23-MW rooftop solar array. The new system will add approximately 2,420 5-by-3 solar panels, covering 87 percent of the roof area of the GM e-Motor building, a 110,500-square-foot addition that manufactures electric motors and drive units for the Chevrolet Spark EV.

"Our roots are in the automotive industry," said Aaron Faust, VP of Business Development at AET. "The precision and rigorous specifications required to manufacture quality products in the automotive industry are traits embodied in GM, and ones that we bring to our solar racking systems. Our Rayport-B roof ballast system, being the only stainless steel system on the market, brings unprecedented quality and reliability to the PV installation at GMs facility."
AET has more than 30-years of product development and engineering experience in both automotive and solar industries.
"We are committed to providing the highest quality products and system components for our customers," said Len Jornlin, Empower Energies CEO. "General Motors leads the automotive industry in renewable energy initiatives. We selected AETs Rayport-B mounting solution because it matched the high standards GM expected in its solar PV installation."
About Applied Energy Technologies (AET)
Applied Energy Technologies (AET), a leading provider of world-class solar mounting solutions, delivers top quality engineering, manufacturing and installation (EMI) services for bankable utility and commercial-scale solar projects. With an impeccable track record of more than 200 MW in completed projects, 100% on time delivery, 100% on budget, and zero warranty claims, AET meets the highest standards in product manufacturing, design and engineering, and installation required by some of the solar industrys foremost leaders. AET has more than 30 years of product development and engineering experience, and creates mounting solutions that stand up to harsh environmental conditions, meet tough budget constraints, and are fast and easy to install. For more information, visit: http://aetenergy.com/.
About Empower Energies
Empower Energies, Inc., with offices in Frederick, Maryland and Troy, Michigan, is a clean energy portfolio solutions provider focused on providing the right mixTM of solar and cogeneration - with financing - to meet the business, resiliency, and sustainability objectives of multi-facility commercial and industrial organizations, such as General Motors, both in the United States and internationally. More information about Empower Energies can be found at www.empowerenergies.com.
Featured Product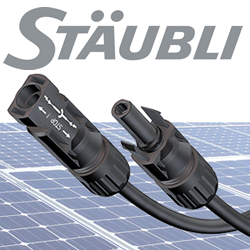 ​Stäubli Electrical Connectors are used on more than 300 GW, over 50% of the PV capacity worldwide. The MC4 family of UL and TUV listed products include connectors, in-line fuses, branch connectors, cable assembly and more.