Industrial Brawn Meets Software Brains as GE Harnesses the Industrial Internet to Build the Worlds Most Efficient Wind Farm---- Use of Sensors, Data Networks and Analytics Create Turbines that Are Customized for Peak Efficiency of up to 20 Percent More in Annual Energy Production---- Combined Technology Could Deliver up to an Estimated $50 Billion in Value Across the Wind Industry1 if Applied to All 50 Gigawatts of Wind Being Installed this Year
SCHENECTADY, N.Y.--GE (NYSE:GE) today announced the launch of its Digital Wind Farm, a dynamic, connected and adaptable wind energy ecosystem that pairs world-class turbines with the digital infrastructure for the wind industry. The technology boosts a wind farms energy production by up to 20 percent and could help generate up to an estimated $50 billion of value for the wind industry.

The Digital Wind Farm uses interconnected digital technology—often referred to as the Industrial Internet—to address a long-standing need for greater flexibility in renewable power. The technology will help integrate renewable power into the existing power grid more effectively.
"Every business—including our own at GE—and every industry is being transformed by smarter digital technologies, and the greatest opportunity lies in energy," said Steve Bolze, president and CEO of GE Power & Water. "The question is not whether to start down this path … its about knowing how to get the most out of your digital transformation. Thats what will separate industry leaders from those left behind."
GE is leading the transformation of the wind power industry with todays launch of the worlds first Digital Wind Farm. This new wind ecosystem pairs world-class turbines with a digital infrastructure to enhance production, reduce costs and boost operating efficiency over the life of the wind farm.
The Digital Wind Farm ecosystem begins with the production of the turbines themselves. With the next generation of Brilliant wind turbines, GEs new 2-megawatt platform utilizes a digital twin modeling system to build up to 20 different turbine configurations at every unique pad location across a wind farm in order to generate power at peak efficiency based on the surrounding environment. Additionally, each turbine will be connected to advanced networks that can analyze turbine operations in real time and make adjustments to boost operating efficiencies.
Once the turbines are built, their embedded sensors are connected and the data gathered from them is analyzed in real time with GEs Predix software, which allows operators to monitor performance from data across turbines, farms or even entire industry fleets. The data provides information on temperature, turbine misalignments or vibrations that can affect performance.
As more data is collected, the system actually learns over time, becoming more predictive and "future-proofing" wind farms by maintaining top performance and avoiding the maintenance issues that typically occur as turbines age. It also reduces costs by customizing maintenance schedules to ensure preventive maintenance is done only when needed.
"GEs focus on life-cycle operations is consistent with the way we operate our wind farms," said Michael Polsky, president and CEO of leading energy company Invenergy. "We look forward to working together with GEs Digital Wind Farm to unlock even more long-term value across our fleet."
The Digital Wind Farm builds on GEs Wind PowerUp* technology, which was unveiled 18 months ago. Now installed in 4,000 units, the technology has improved turbine efficiency up to 5 percent, which translates to up to a 20 percent improvement in profitability for each turbine.
"Big data is worthless without the insight to take action, and our vision for the industry is to use todays data to predict tomorrows outcomes," said Bolze. "By harnessing the full power of the Industrial Internet, we can create a world where wind farms learn, adapt and perform better tomorrow than they do today."
Please tune in to GE's live webcast on Tuesday, May 19, 2015, at 7 p.m. EDT at gepower.com/windwebcast to watch GE and its customers reveal the Digital Wind Farm.
About GE
GE (NYSE: GE) imagines things others dont, builds things others cant and delivers outcomes that make the world work better. GE brings together the physical and digital worlds in ways no other company can. In its labs and factories and on the ground with customers, GE is inventing the next industrial era to move, power, build and cure the world. www.ge.com
About GE Power & Water
GE Power & Water provides customers with a broad array of power generation, energy delivery and water process technologies to solve their challenges locally. Power & Water works in all areas of the energy industry including renewable resources such as wind and solar; biogas and alternative fuels; and coal, oil, natural gas and nuclear energy. The business also develops advanced technologies to help solve the worlds most complex challenges related to water availability and quality. Power & Waters six business units include Distributed Power, Nuclear Energy, Power Generation Products, Power Generation Services, Renewable Energy and Water & Process Technologies. Headquartered in Schenectady, N.Y., Power & Water is GEs largest industrial business.
Featured Product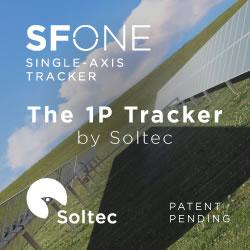 SFOne is the 1P single-axis tracker by Soltec. This tracker combines the mechanical simplicity with the extraordinary expertise of Soltec for more than 18 years. Specially designed for larger 72 an 78 cell modules, this tracker is self-powered thanks to its dedicated module, which results into a lower cost-operational power supply. The SFOne has a 5% less piles than standard competitor, what reduces a 75% the labor time.