Confirmed speaker participants so far include A123 Systems, AVL North America, Ambri, BASF Battery Materials, Bosch Battery Systems, Boston Power, DTE Energy, Fiat Chrysler Automobiles, Ford Motor Company, Greensmith EMS, Intertek, LG Chem, Navigant Research, NEC Energy Solutions, NextEnergy, Nissan North America, Oak Ridge National Labs, Sakti3, Siemens, Solid Power Battery, University of Illinois, University of Michigan, Urban Electric Power, Valeo North America, VoltaIQ, Wildcat Discovery, Xalt Energy, Xerion Advanced Battery and more!
Join us for an exciting, two-day Battery Seminar on October 27 & 28, 2015 in Detroit, MI (USA) featuring numerous sessions presented by industry subject matter experts on battery solutions, challenges, and new energy storage technologies.

Enjoy informal discussions, interactive Q&As, an exclusive NextEnergy facility tour, evening cocktails reception, complimentary meals, networking, and much more.
Key Event Highlights:
• Several in-depth technical sessions on recent materials science and R&D advancements in anodes, cathodes, electrolytes, separators, etc.
• Industry updates by subject matter experts from major multinational automotive and stationary/grid storage OEMs, Tier 1 suppliers, and battery/energy storage system manufacturers
• Hottest trends and upcoming cutting-edge developments in the increasing role of software analytics and "big data" in energy storage
• Poster presentations
• Complimentary meals and evening cocktails reception
• Plenty of industry networking opportunities
• An exclusive guided tour of the NextEnergy facility
NextEnergys Microgrid Pavilion (MGP) and Alternative Fuels Platform (AFP) were originally developed to test and validate a wide variety of advanced energy products. In recent years, NextEnergy has focused its efforts on energy storage, electric vehicle (EV), smart grid, and "vehicle-to-X" interface technologies, in line with domestic interests. NextEnergys state-of-the-art facility features:
• Electric Vehicle Supply Equipment (EVSE) infrastructure and charging stations, including multiple Dual Bi-directional Charging Modules (DBCMs)
• NextHome, an energy efficient residential platform with DC appliances, which resides between the MGP and AFP
• Eight (8) laboratories to incubate advanced energy technologies, featuring innovative partners like Nextek Power and Qualcomm
• A state-of-the-art Atrium/Showroom and Auditorium
The tour will also highlight NextEnergy and partners unique programs (in collaboration with DTE Energy, the Department of Energy, Department of Defense, and leading automotive OEMs to name a few) such as:
• Ongoing testing and validation enabling the use of intelligent "V2X" systems, including: vehicle-to-grid (V2G), vehicle-to-vehicle (V2V), vehicle-to-infrastructure (V2I) and vehicle-to-home (V2H) technologies and platforms
• A Community Energy Storage project looking at the impact of grid-tied multiple 25 kW (50 kWh) CES units and a 500 kW lithium ion battery, including secondary use batteries and photovoltaics, on a MISO circuit. The CES aims to demonstrate utility distributed generation benefits utilizing energy storage such as: peak shaving, demand response, voltage/VAR support, emergency load relief; integration of renewable generation without intermittency; and islanding during outages
This two-day event will be held at NextEnergy - a supporting organization for this event - at their facility at 461 Burroughs St., Detroit, MI 48202 USA
For additional details, complete program agenda and seminar registration form please visit:
http://plugvolt.com/blog/category/seminars/
Questions? Visit www.plugvolt.com for more details, or call us at 1-877-PLUGVOLT (1-877-758-4865)
About PlugVolt
PlugVolt is involved in the business of promoting and fostering joint development efforts in advancing battery and alternative energy storage technologies.
PlugVolt offers business consultation services, information services, and custom training (online & onsite) services to the energy storage industry. The routine online webinar sessions and seminar events focus on core technical issues and commercial aspects, as well as market forecasts, for batteries and energy storage systems used in advanced automotive, stationary storage, medical, military, consumer, industrial, smart grid/utility, and alternative energy & power generation segments.
More information available at www.plugvolt.com
Featured Product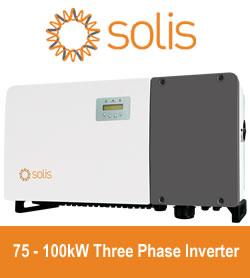 Solis75kW - 100kW series high-power string inverters are widely used in industrial and commercial rooftops. Solis's new three-phase string inverter is the first choice for industrial and commercial photovoltaics. 75-100kW three phase series string inverter have Maximum 28 strings input, support "Y" type connection in DC side. Maximum string input current 13A, support bifacial modules access.Supports anti-PID function to improve system efficiency.