Circular Energy is a company totally committed to renewable energy and is proud to be leading by example. The Pro Power Providers partner location in Fort Worth, Texas is a solar powered facility designed and installed by Circular Energy.
Circular Energy isn't just a solar sales and installation company - They are wholly committed to renewable energy, and proud to be leading by example.

In fact, the Pro Power Providers headquarters in Fort Worth, Texas is a solar powered facility.
Circular Energy designed and installed a 25.2 kW solar canopy and a 14.7 kW ballasted solar energy system for our partner location in Fort Worth. A total of 133 300-watt PV solar panels were used on this solar installation, and associated solar energy savings are the equivalent to the planting of 33 acres of forests in Fort Worths parks.
Cost reductions and improving technology are making solar power attractive and affordable for virtually every organization across America. Levelized cost of energy from solar power combined with the goodwill associated with being a sustainable company means businesses have much to gain by rethinking their energy. And Circular Energy is ready to help.
About Circular Energy
Circular Energy is changing the way business owners buy electricity. With headquarters in Austin, Texas, Circular Energy brings over 100 years of energy expertise focused on renewable energy solutions, innovative electricity products and energy intelligence. Circular Energy is dedicated to helping American businesses with high-quality, affordable, resilient and sustainable energy solutions. Learn more about a solar energy solution for your business by calling Circular Energy at 866-255-8166 or visiting CircularEnergy.com.
About Pro Power Providers
Pro Power Providers was established to bring efficiency and innovation to the electricity market by utilizing the most up-to-date technology. Extensive knowledge of energy markets allows Pro Power Providers to deliver simplified, powerful solutions to customers. Pro Power Providers is part of the Circular Energy family of companies. Learn more by calling 844-PRO-POWER (776-7693) or visiting ProPowerProviders.com.
Featured Product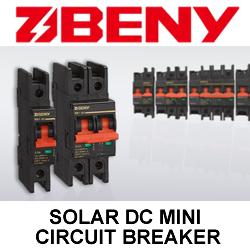 The BB1-63 modular miniature circuit-breakers can be used in solar DC circuits up to 1200 VDC (4-poles execution). Application in solar DC circuits, battery energy storage systems and UPS. Arc flash barrier design keeps solar equipment more safe and reliable. For DC circuit over-current protection.