CalCom Solar, Leading Solar Provider Empowers Agriculture Business and Water Districts to Optimize Energy and Water Use
CalCom Solar to Deploy 1.1MW Solar System at Medeiros and Son Dairy

Leading Solar Provider Empowers Agriculture Business and Water Districts to Optimize Energy and Water Use
VISALIA & HANFORD, CA, MAY 27, 2015 — CalCom Solar, a leader in design-build solar projects for agribusinesses and water districts, has commenced installation of a new 1.1 MW solar power system at Medeiros and Son Dairy in Hanford, CA. The project will be completed in Summer 2015.
"CalCom Solar is making solar energy work for us, both operationally and financially," said Brian Medeiros. "The dairy business takes constant evaluation and assessment to ensure our operation and team is working as efficiently as possible. Were extremely focused on improving efficiencies across the entire farm. Solar is one of those crucial tools that makes a lot of sense. It helps us to reduce our energy costs and improve our triple bottom line."
"Were very proud to be working with Medeiros and Son, a leader in sustainable dairying and farming, to provide them with clean, reliable, emissions-free electricity," noted CalCom Solar CEO Nic Stover. "By deploying over a megawatt of clean solar-powered generation, Medeiros will take a huge step towards becoming a net-zero, sustainable dairy. Beginning in Q3 2015, Medeiros will significantly lower operational costs, saving approximately $320,000 annually on utility bills. This solar array will help provide financial certainty, delivering more than $8 million in utility savings over the next 25 years."
CalCom Solar will be breaking ground on 12 new PV projects at farms in the next two months. In addition to the financial savings, the system will also help in Californias efforts to mitigate climate change. This project will significantly reduce CO2 emissions — the equivalent of burning 1.6 million pounds of coal or using 166,000 gallons of gasoline every year.
"By deploying solar, our farming practices will also improve, as we will be able to reduce our peak hour electrical demand on our fans, chillers and well pumps," said Medeiros. This new PV array deployment leverages Net Energy Metering Aggregation (NEMA), affording CalCom the ability to install Medeiros solar array where it can return dividends on once unproductive ground.
CalCom Solar is deploying NEXTracker technology in this array, an innovative technology aligned with CalComs focus on helping agricultural customers increase their energy yield while lowering costs.
About Medeiros & Son Dairy
Medeiros and Son Dairy is a family farm located in Kings County in Californias Central Valley. The dairy milks 2,450 cows and farms 1,400 acres. Medeiros and Son was honored as Dairy Family of the Year for Kings County in 2013.
About CalCom Solar CalCom Solar (www.calcomsolar.com), a leading California-based solar provider serving agriculture / water districts, has extensive expertise in Ag energy/water-use optimization. Our founding team has 35 years of solar experience—delivering tremendous value-add for agriculture and water district customers. CalCom has developed proprietary Solar AG Energy (SAGE) analysis software; this revolutionary tool analyzes numerous factors —including historical and future rate increases, water/irrigation patterns, crop types, etc.—to generate the most precise energy projections in the industry.
Contact: Susan DeVico SusanDV@aol.com (510) 339-1527
Featured Product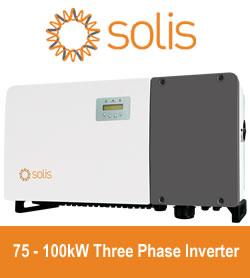 Solis75kW - 100kW series high-power string inverters are widely used in industrial and commercial rooftops. Solis's new three-phase string inverter is the first choice for industrial and commercial photovoltaics. 75-100kW three phase series string inverter have Maximum 28 strings input, support "Y" type connection in DC side. Maximum string input current 13A, support bifacial modules access.Supports anti-PID function to improve system efficiency.