The Illinois Renewable Energy Conference, held Thursday, July 16, at Illinois State University, will feature presentations on state energy policies and current legislative proposals.
"Illinois legislative proposals for energy policy have different implications for the growth of renewable energy and energy efficiency in the state," said David Loomis, director of the Center for Renewable Energy, Energy Learning Exchange and Institute for Regulatory Policy Studies at Illinois State University.

Illinois Renewable Energy Conference plenary speakers will present on topics of interest to all areas of renewable energy, and breakout session speakers will discuss policy, technology, and case studies for wind, solar, biomass, geothermal and energy efficiency. The event will be of interest to renewable energy companies, policy makers, government officials, county board members, zoning board members, universities, community colleges, schools, landowners, agriculture extension offices, lawyers, electric coops, manufacturers, contractors, environmental groups, and general public interested in renewable energy in the state.
The early registration rate per person is $50 through May 31. The regular registration rate of $70 will be effective June 1, and the late registration rate of $90 will begin July 1. For more conference information and to register online, please visit www.RenewableEnergy.ilstu.edu. Conference schedule, topics, and speakers are subject to change.
Plenary session speakers include Sarah Wochos, Environmental Law and Policy Center and Anthony Star, Illinois Power Agency. Breakout sessions will feature Lisa Albrecht, Illinois Solar Energy Association; Kevin Borgia, Wind on the Wires; David Buss, Connor Co.; John Caupert, National Corn to Ethanol Research Center; Dr. Sriraam Chandrasekaran, Illinois Sustainable Technology Center; Darrin Johnston, Caterpillar; Brian Katamay, University of Illinois at Chicago, Energy Resources Center; Jeff Reinkemeyer, Iberdrola Renewables; Dan Schetter, Schetter Farms; Matt Slager, Hanson Professional Services; and Lenny VanWingerden, Mid-American Growers.
Event partners include the Center for Renewable Energy at Illinois State University, Illinois Wind Working Group, Wind on the Wires, Illinois Solar Energy Association, Illinois Biomass Working Group, Geothermal Alliance of Illinois and Midwest Energy Efficiency Alliance. Sponsors include Stantec, Cultural Resource Analysts, EDF Renewable Energy, EDP Renewables North America, Farnsworth Group, Husch Blackwell, Iberdrola Renewables, Illinois Institute for Rural Affairs at Western Illinois University, and Illinois Laborers' Employers Cooperation and Education Trust.
The Center for Renewable Energy at Illinois State University was approved by the Illinois Board of Higher Education in August, 2008. The Center has three major functional areas: supporting the renewable energy major at Illinois State University; serving the Illinois renewable energy community by providing information to the public; and encouraging applied research on renewable energy at Illinois State University and through collaborations with other universities.
Featured Product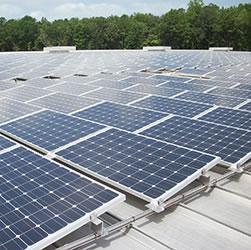 The Power Rail™ Commercial Mounting System is designed with the professional PV solar installer in mind. Both the XD/UD and LD/MD rails feature single tool assembly with the revolutionary patented RAD™ Lock-in-Place bolt for fast and secure module clamping. The high strength marine-grade aluminum rails include an integral wiring channel for securing cables and providing a professional finish.