2.3MW installation will generate enough power for approximately 820 typical households
KYOTO, Japan--Kyocera Corporation (President: Goro Yamaguchi; herein "Kyocera,") and Century Tokyo Leasing Corporation (President: Shunichi Asada; herein "Century Tokyo Leasing") announced today that Kyocera TCL Solar LLC has completed construction of its third floating mega-solar power plant in Hyogo Prefecture, Japan. A ceremony was held on May 24 to commemorate completion of the 2.3-megawatt (MW) plant, which will generate an estimated total of 2,680 megawatt hours (MWh) per year — enough electricity to power approximately 820 typical households*.

Kyocera and Century Tokyo Leasing jointly established Kyocera TCL Solar LLC in August 2012 for the purpose of constructing and operating multiple solar power plants in Japan. Due to the rapid implementation of solar power, securing tracts of land suitable for utility-scale plants is becoming increasingly difficult in Japan. In order to utilize the country's abundant water surfaces, Kyocera TCL Solar began installing floating solar power generation systems last year. This marks the third floating installation completed by the company, in addition to 1.7MW and 1.2MW plants which began operation last month at two different sites in Hyogo Prefecture. The company is also developing a 13.4MW installation on a dam reservoir in Chiba Prefecture, Japan.
Through its projects, Kyocera and Century Tokyo Leasing hope to contribute to the expansion of renewable energy and development of a low carbon society.
Featured Product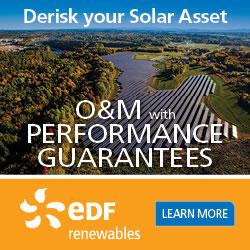 EDF Renewables offers the same innovative solutions that maximize the performance of our own 5.2 GW of installed projects. Because we're not an equipment manufacturer, our recommendations are transparent and data-driven. We cover the entire project lifecycle: from pre-commissioning support, through warranty and post warranty operation, to late stage and decommissioning.