Commercial Sided Intelligent Energy Storage Company Cited As One of the Most Innovative and Smart Emerging Companies in the Smart Grid Industry
SANTA CLARA, Calif., May 29, 2015 -- Green Charge Networks the leading intelligent energy storage company was named today as one of the "15 Smart Grid Companies to Watch in 2015" by Smart Grid News. Smart Grid News differentiated Green Charge from other energy storage vendors based on its strong customer base, with an emphasis on schools and industry partnerships -- including Japan's Itochu Corporation, and no-cost business model through $56 million in equity funding by K-Road Ventures.

According to Smart Grid News: 'By 2025, power efficiency and energy storage has the potential to become a $100 billion market in California alone. Smart Grid News sees Green Charge Networks leading that market. Our selections this year are some of the most innovative and smart emerging companies in the smart grid industry - and have made or have the potential to make significant contributions to the energy industry. Our winners are a melting pot of industry technology but all are riding the wave of emerging trends and opportunities in the Internet of Things, energy storage and distributed energy resources, the connected home and home and building energy management, etc.'
"We are extremely proud to be recognized by Smart Grid News," said Vic Shao CEO at Green Charge Networks. "Green Charge is founded on the principle that public and private institutions need additional capabilities to manage their energy costs and capitalize on benefits they can provide to the grid. Green Charge looks at the energy sector from a different point of view, partnering with the private sector and building a business case around energy storage."
Today, Green Charge has 16 customers and, in Q1 2015 alone, has 30 megawatt-hours in agreements and are interconnected coast to coast at San Diego Gas and Electric, Southern California Edison, Pacific Gas and Electric, Con Edison and Silicon Valley Power.
About Green Charge:
Green Charge provides the easiest way to save energy costs for commercial and industrial businesses, municipalities and schools. Our award-winning solution delivers industry leading savings, up to 50 percent in demand charges. We provide risk-free financed energy storage and software that time-shifts power use, and optimizes electric vehicle charging solar and energy efficiency measure. Founded in 2009 Green Charge is headquartered in Santa Clara, Calif., with offices in NYC.
Featured Product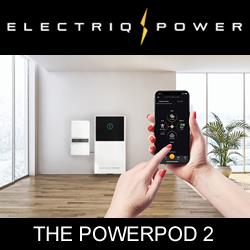 The Electriq PowerPod 2 is a fully-integrated home energy storage, management, and monitoring system powered by LFP batteries. The high-performance, cobalt-free product includes a hybrid solar/battery inverter controlled by intelligent software. The PowerPod 2 provides backup power and can self-consume or export excess power back to the grid.