Industry leader seeks to further the advancements of renewable energy crop feedstocks through informative and collaborative sessions and workshops
VONORE, Tenn. June 3, 2015 - Innovative biomass supply chain industry leader, Genera Energy Inc., has announced its platinum sponsorship of the first annual Advanced Bioeconomy Feedstocks Conference (ABFC) 2015. Located at the Royal Sonesta Hotel in New Orleans, June 9-10, the conference brings together leaders in the bioeconomy industry in an effort to further the advancements of feedstock by discussing pressing issues such as economics, government programs and policies, overall logistics, yield improvement and more.

As a tier-one sponsor, Genera will play an important role in this years conference, with several Genera staff featured in an informative webinar, multiple breakout sessions, panel discussions and presentations. Genera president and CEO, Kelly Tiller, Ph.D., has been selected to deliver the inaugural global bioeconomy feedstocks keynote to kick off the conference and set the stage for productive conversations.
"For this industry to move forward, comprehensive feedstock supply chains and streamlined processes for management and logistics are essential," said Tiller. "ABFC 2015 provides leaders in the industry the critical opportunity to evaluate the current state of feedstocks and its role in a sustainable energy future."
During the two-day event, numerous leaders in the bioeconomy sector will discuss and showcase innovative thoughts, practices and technologies that aim to better feedstock supply chains throughout the world. Genera will focus on supply chain solutions for biofuels, biopower, biobased products, and the entire bioeconomy in:
· Tillers keynote address on Tuesday, June 9, which will highlight the state of the global bioeconomy feedstock industry.
· A presentation by Sam Jackson, VP of business development, on Tuesday, June 9 at 2:05 p.m. that will focus on dedicated energy crops for supply chains.
· Multiple breakout sessions and workshops throughout the event.
Genera Energys participation and sessions at ABFC 2015 ultimately aim to provide the broader bioeconomy industry with experience-based advice and insight by covering the management of biomass supply chains and production risks, optimizing feedstock solutions for varying customers, honoring a commitment to landowners and advancing energy crop sources.
For more information on Genera Energy, visit www.generaenergy.com, and for more information on ABFC 2015, visit www.advancedbiofuelsummit.com.
About Genera Energy, Inc.
Genera Energy Inc. supplies biomass feedstocks for the advanced bio-based industries, offering scalable industrial scale agriculture biomass supply solutions ranging from full service energy crop production to customizable supply chain solutions and managing biomass supply. Generas proprietary Supply ASSURE feedstock management system and its BIN-SPEC material handling and milling system offer Generas customers maximum feedstock reliability and quality while minimizing variability and cost. Based in Vonore, Tenn., Genera operates the countrys largest and most comprehensive industrial biomass management and processing facility. Focus on innovation and sustainability in delivering industrial biomass supply systems has earned Genera the Worlds Biofuels Markets prestigious 2013 Sustainable Feedstock Innovation Award. For more information, visit http://www.generaenergy.com.
Featured Product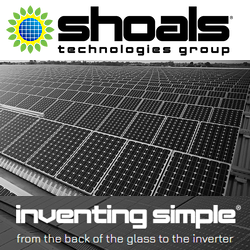 Inventing Simple® isn't just a slogan to us, it's a way of life. Using simple plug-and-play ideology, we revolutionized solar installations in 2003 with our Interconnect System™. Our harnessing system is now the gold standard EPC's use around the world. By using simple ideas, we are making solar energy a more affordable and clean power source for future generations.