EDF Renewable Energy reaches 872 megawatts installed in Texas
SAN DIEGO & SILVERTON, Texas--EDF Renewable Energy announced today that the 200-megawatt (MW) Longhorn Wind Project in Texas reached commercial operation on May 1, 2015.

The Project, spanning 33,000 acres in Floyd and Briscoe counties, is comprised of 100 Vestas V-100 wind turbine generators with a rated capacity of 2 MW each. Renewable Energy Systems Americas Inc. (RES) developed and constructed the project, which utilizes the CREZ (Competitive Renewable Energy Zone) transmission infrastructure to deliver the low-cost renewable generation resources of West Texas and the Texas Panhandle to the Electric Reliability Council of Texas (ERCOT) market.
"Longhorn represents EDF Renewable Energys fifth project to be placed in service in Texas in the past three years bringing our installed capacity in the state to 872 megawatts," commented Ryan Pfaff, Executive Vice President of EDF Renewable Energy. "We are particularly pleased to be up and running in Floyd and Briscoe Counties, and look forward to working closely with the local community throughout the life of the Longhorn Wind Project."
Andrew Fowler, Chief Operating Officer for RES Americas, added, "RES continues its commitment to growing the Texas economy by creating many jobs with the construction workforce peaking at 250, 14 permanent jobs for operations and maintenance, and spending nearly $3.5M in the local community during construction. Longhorn is our 18th completed project in the Lone Star State and marks our first construction project with EDF RE. We look forward to continuing to work with EDF RE to provide secure and sustainable energy solutions in the future."
Longhorn Wind will generate enough electricity to power approximately 55,000 homes - according to US Energy Environmental Protection Agency methodology - avoiding approximately 375,000 metric tons of greenhouse gas emissions per year, the equivalent of the annual emissions from approximately 80,000 passenger vehicles. Longhorns output is sold to a creditworthy counterparty under a long-term, fixed-price energy purchase agreement.
EDF Renewable Services, the leading provider of renewable operations and maintenance services in North America, will provide balance-of-plant operations and maintenance for the facility including 24/7 remote monitoring from its NERC compliant Operations Control Center (OCC). The OCC provides an efficient, reliable, and secure operating platform, while benefiting from the centralization of SCADA (Supervisory Control and Data Acquisition) functions and consolidation of multiple vendor SCADA environments to provide a common operating view. EDF Renewable Services has over 1.3 GW under contract in Texas.
About EDF Renewable Energy:
EDF Renewable Energy is a leading U.S. independent power producer with more than 25 years of expertise in the renewable industry, covering all range of services from project development, management to operations and maintenance. EDF Renewable Energy specializes in wind and solar photovoltaic with presence in other segments of the renewable energy market: biogas, biomass, hydro, marine energy and storage solutions. The company develops, constructs, operates and manages renewable energy projects throughout the United States for its own accord as well as for third parties. EDF Renewable Energys North American portfolio consists of 5.6 gigawatts of developed projects with 3.1 gigawatts of installed capacity throughout US, Canada, and Mexico. EDF Renewable Energy is a subsidiary of EDF Energies Nouvelles. EDF Energies Nouvelles is the renewable energy arm of the EDF group, the leading electricity company in the world. For more information visit: www.edf-re.com
About RES:
Since 1997, RES has been providing development, engineering, construction, and operations services to the utility-scale wind, solar, transmission, and energy storage markets across the Americas. The company employs more than 300 full-time professionals and has over 7,500 MW of utility-scale renewable energy and energy storage projects and constructed more than 600 miles of transmissions lines throughout the U.S., Canada, and Chile. RES corporate office in the U.S. is located in Broomfield, CO with regional offices located in Austin, TX, Minneapolis, MN, and San Francisco, CA.
RES has developed and/or built over 9GW of renewable energy capacity worldwide, has an asset management portfolio exceeding 1GW, and is active in a range of renewable technologies including onshore wind, solar, energy storage, transmission, and demand side management. For more information, visit www.res-americas.com
Featured Product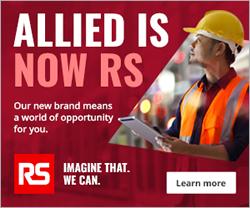 Based off the design pioneered by Anderson in 1953, the two pole SB® connectors set the standard for DC power distribution and battery connections. SB connectors feature a rugged one-piece plastic housing using stainless steel springs to retain the contacts and create the "contact force" that provides extremely low resistance enabling greater electrical efficiency. The SB connectors are also genderless (flip one 180 degrees and they will mate to each other) reducing the customer's bill of materials and providing greater economies of scale when purchasing. The SB series of connectors range in size from SB50 to the SB350. Each family size offers color-coded, mechanically keyed housings designed to prevent both visually and physically cross-mating devices with different voltages. All the connectors are UL rated to 600 volts, so the keys and colors are just identifiers to prevent accidents. Contacts are traditionally Silver plated to minimize electrical resistance while offering supreme durability and reliability.