Installations are never one-size-fits-all, and training for solar contractors should be equally diverse
CLEVELAND--Solar Power World and solar roof-mount attachment provider S-5! today announced 'SOMO, the first training conference dedicated solely to the art and science of mounting rooftop and ground solar, August 16-18 at Mirage Hotel in Las Vegas.

The event is co-sponsored by Solar Energy Industries Association (SEIA) and the North American Board of Certified Energy Practitioners (NABCEP), the industry's most trusted certification board. Many of the SOMO training courses will come with NABCEP certification credits.
The solar industrys top 25 to 30 racking and mounting manufacturers, including S-5!, Zilla, Mounting Systems, IronRidge and many more will provide 24 hours of hands-on training courses, and over 90 hours of classroom instruction.
"The companies participating in and providing training courses at SOMO represent the gold standard in solar mounting, and there is no better place to learn best-practices than this event," said Keith Lipps, vice president of marketing and sales at S-5!. "Attendees can be assured that direct instruction from these tier-one solar mounting companies will be the most comprehensive training they can receive in one place."
Attendees can expect to learn the proper and safe installation techniques for a variety of roof- and ground-mount applications during a day of hands-on workshops and two days of classroom instruction and training.
For more information visit www.somoconference.com.
About Solar Power World
Solar Power World Magazine and digital network covers the design, manufacturing, development, and installation of residential and commercial solar power projects. More information at solarpowerworldonline.com
About S-5!
For over 22 years, S-5! has been producing unique attachment products that revolutionize the metal roofing industry. S-5! products are installed on over 1.4 million metal roofs worldwide, providing strength and longevity never before seen. Whether specifying a PV mounting solution or installing a snow retention system, architects and metal roof contractors endorse S-5! as the most trusted name in the industry.
Featured Product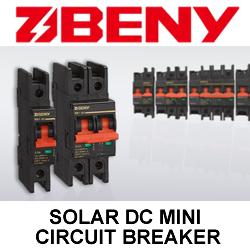 The BB1-63 modular miniature circuit-breakers can be used in solar DC circuits up to 1200 VDC (4-poles execution). Application in solar DC circuits, battery energy storage systems and UPS. Arc flash barrier design keeps solar equipment more safe and reliable. For DC circuit over-current protection.