Desert Sunlight acquisition to increase contracted solar portfolio by 137.5 megawatts
PRINCETON, N.J.--NRG Yield, Inc. (NYSE:NYLD, NYLD.A), through its subsidiary NRG Yield Operating LLC, has entered into an agreement with GE Unit (NYSE: GE) GE Energy Financial Services to acquire its 25 percent interest in the Desert Sunlight Solar Farm in Riverside, CA for $285 million, subject to customary working capital adjustments, plus the assumption of $287.4 million of non-recourse project level debt. The acquisition, which provides NRG Yield with a total ownership of 137.5 megawatts (MW) of operating solar capacity, will place NRG Yield into a partnership with subsidiaries of NextEra Energy and Sumitomo Financial, who are the 50 percent and 25 percent owners of Desert Sunlight, respectively.

The transaction is expected to increase both the annual run-rate EBITDA by approximately $45 million and cash available for distribution by approximately $22 million by 2016.
"The acquisition of an interest in the largest operating solar farm in North America highlights not only our continued commitment to carbon-free generation, but also the strength of our acquisition capabilities to compete for contracted assets of world-class quality in a historically competitive marketplace," said David Crane, NRG Yield's Chairman and Chief Executive Office. "Desert Sunlight furthers our objective of sustainable and visible dividend growth for our investors while bolstering our generation of carbon-free electricity for thousands of homes through utility scale solar investments."
Desert Sunlight Highlights:
* Contracted long-term power purchase agreements with Southern California Edison (250 MW) and Pacific Gas & Electric (300 MW) having 20 years and 25 years of remaining contract life, respectively
* Located in a premier solar resource area with over 30 years of operating solar history
* First Solar (NYSE: FSLR) permitted, constructed and is now operating the plant, which utilizes over 8 million First Solar CdTe Thin Film modules, with commercial operation achieved for the entire farm in December 2014
* Expected to be immediately accretive to cash available for distribution per share
* Attractive long-term debt financing in place, with 80 percent of debt service supported by a DOE loan guarantee
NRG Yield expects to close the transaction by June 30, 2015. The transaction is subject to customary closing conditions, including approvals by the Federal Energy Regulatory Commission and notice of the acquisition to the California Public Utilities Commission.
With this acquisition, NRG Yield now owns nearly 600 megawatts of solar generation. NRG Yield is supported by its parent, NRG Energy, Inc., which owns and operates approximately 1.2 gigawatts of solar generation, thus implying a combined solar portfolio of 1.8 gigawatts.
About NRG Yield
NRG Yield owns a diversified portfolio of contracted renewable and conventional generation and thermal infrastructure assets in the U.S., including fossil fuel, solar and wind power generation facilities that provide the capacity to support more than one million American homes and businesses. Our thermal infrastructure assets provide steam, hot water and/or chilled water, and in some instances electricity, to commercial businesses, universities, hospitals and governmental units in ten locations. Visit nrgyield.com for more information.
Featured Product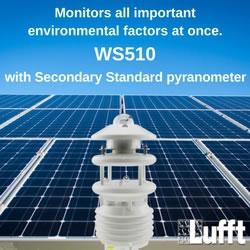 Professional weather sensors form the heart of large solar plants supporting their operation and performance. Lufft was the first manufacturer to combine several sensors in one housing, bringing the largest multiparameter weather sensor family with 19 members into being. Many of them are well-suited for solar site assessment and continuous monitoring. The most commonly used one is the WS600 delivering data on temperature, air pressure, wind, relative humidity and precipitation. Through its open protocol, it can easily be attached to radiation sensors e.g. from Kipp&Zonen. Other models have an integrated Silicon, Second Class or Secondary Standard radiation sensor.