SunPower expects the plant to be operational by the end of 2016.
SAN JOSE, Calif., June 18, 2015 -- SunPower Corp. (Nasdaq: SPWR) today announced it has started construction on the 102-megawatt (AC) Henrietta Solar Project in Kings County, Calif. The system will generate power for Pacific Gas and Electric's customers under a long-term power purchase agreement. SunPower expects the plant to be operational by the end of 2016.

"With more than 5.8 gigawatts of operating solar systems worldwide, SunPower designs and builds solar power plants to leverage the company's proven experience and our technology's outstanding power-producing performance," said Jorg Heinemann, SunPower executive vice president, global power plants. "SunPower customers rely on the cost-competitive, emission-free power and long-term return on investment that our systems deliver."
SunPower anticipates that about 350 jobs will be created during construction of Henrietta. Approximately $73 million in local economic impact and an estimated $3.8 million in tax revenue will be generated as a result of the project. Once operational, the Henrietta project is expected to generate enough electricity for more than 22,000 homes, according to estimates provided by the Solar Energy Industries Association.
SunPower is constructing a SunPower Oasis Power Plant system at the approximately 670- acre Henrietta site. Oasis is a fully-integrated, modular solar power block that is engineered to rapidly and cost-effectively deploy utility-scale solar projects while optimizing land use. The technology includes robotic solar panel cleaning capability that uses 75 percent less water than traditional cleaning methods and can help improve system performance by up to 15 percent.
According to estimates provided by the U.S. Environmental Protection Agency, the completed plant will offset the annual production of almost 128,000 tons of carbon dioxide emissions, which is the equivalent of removing more than 614,000 cars from California's roads over the next 25 years.
About SunPower Corp.
SunPower Corp. (Nasdaq: SPWR) designs, manufactures and delivers the highest efficiency, highest reliability solar panels and systems available today. Residential, business, government and utility customers rely on SunPower's 30 years of experience and guaranteed performance to provide maximum return on investment throughout the life of the solar system. Headquartered in San Jose, Calif., SunPower has offices in North and South America, Europe, Australia, Africa and Asia. For more information, visit www.sunpower.com.
Featured Product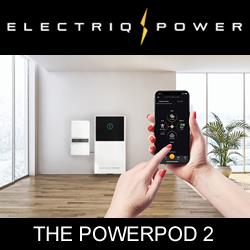 The Electriq PowerPod 2 is a fully-integrated home energy storage, management, and monitoring system powered by LFP batteries. The high-performance, cobalt-free product includes a hybrid solar/battery inverter controlled by intelligent software. The PowerPod 2 provides backup power and can self-consume or export excess power back to the grid.