The conference and exhibition gave the energy industry the chance to celebrate achievement, tackle challenges and highlight future opportunities
POWER-GEN Europe and Renewable Energy World Europe 2015 closed on Thursday 11th June 2015 with a renewed sense of optimism about Europes transitioning energy sector. In what has been viewed as a difficult time for the energy sector, almost 10,000 attendees came together at the show to trade intelligence, learn new ideas and celebrate successes within European energy. This included nearly 1,000 delegates from 400 exhibitors, representing over 100 countries. The flow of thoughts, enthusiasm and technology were a constant throughout the event, and attendees left with many promising ideas, not least from the 203 diverse and inspirational speakers at the conference.

This years event opened with the highly anticipated Joint Keynote Session from Maria van der Hoeven, Executive Director, International Energy Agency; Ineke Dezentjé Hamming-Bluemink, President of FME, the Dutch Employers Association; Marie Donnelly, Director, DG Energy; and Dr Wolfgang Konrad, Chief Executive, Siemens Distributed Generation.
Ms van der Hoeven presented the need for an all-encompassing energy approach in order to combat climate change, suggesting todays energy structure itself needed to be overhauled. Ms. Hamming-Bluemink echoed this call for change, suggesting that business plans should be reviewed every month in the fast moving European energy market. Ms. Donnelly agreed that Europe was at risk of being, in its current form, "28 separate boxes in the EU". Furthermore, Dr. Konrad discussed the need for an updated and more flexible grid that could deal with renewables, distributed power to better match demand with availability.
The Gala Dinner was another excellent event for networking and celebrating the achievements of the European power industry, as five projects were recognised for their ingenuity and services to clean energy generation. The prestigious Peabody clean coal achievement for best emissions performance was awarded to Trianel Kohlekraftwerk GmBH & Co KG for their iconic site in Lünen, Germany.
On day two of the conference, the Joint Plenary Panel Discussion focused on the shows theme of a transitioning European energy sector, and there was a heated discussion between the five panel members which the audience enjoyed and participated in. The panel discussed a change in the role of traditional power generation from commodity to insurance, in conjunction with the phasing out of traditional generation due to the growing use of renewable sources and their intermittency. Further discussion took place around the use of energy data being shared in order to promote smarter cities, and whether this data could be utilised to allow carbon capture and storage to become a viable option, not just a failed experiment.
The optimism and momentum carried over into the final day of the show, with the presentation of the best paper awards rounding off the day. The floor was busy up until the very end of the show, with many meetings and events taking place throughout the exhibition.
POWER-GEN Europe and Renewable Energy World Europe will be back next year, with 2016s show to be held in Milan. Register your interest now for more details and to take advantage of early bird pricing.
- ENDS -
Note to editors
The Best Paper Awards Winners were:
• Europes Transitioning Power Sector
Jens Reich, STEAG Energy Services GmBH: Fossil Power Generation - Partner, Collaborator or Victim of the Energy Turn-Around
• The Big Carbon Question
Mogens Kjaer Petersen, Ramboll Energy: Advantages from Integrating the District Heating, District Cooling and Power Supply System into one Flexible Energy Supply System
• Flexing the Power of Gas
Christian Hultholm, Wärtsilä Corporation: Optimal Reserve Operation in Turkey - Frequency Control and Non-Spinning Reserves
• Coals Cleaner Future
Thomas Steinparzer, Siemens VAI Metals Technologies GmBH: Waste Heat Recovery Solutions for Steelmaking Processes
• Grid Support with Data and Generators
Robert Thornton-Jones, Brush: Fault Ride Through Requirements for Synchronous Generators in Europe: Practical Consideration and Experiences
• Operational Excellence and Flexibility
Florian Roehr, Siemens AG: From Base to Cycling Operation - Innovative Operational Concepts for CCPP
• Renewable Energy Strategy, Business & Integration
Alain Castro, Ener-Core Inc: Extending Renewable Electricity Generation for Decades at Closed Landfill Sites with Gas below 30% Methane
• Urban Energy Integration
Rupert Green, Parsons Brickerhoff: Energy Masterplans for Integrated Decentralised Energy Systems
About PennWell events
POWER-GEN Europe and Renewable Energy World Europe are owned and organised by PennWell Corporation. These events form part of a series staged annually in North America, South America, Europe, Asia, Africa and the Middle East, and provide exhibitors with an international 'one-stop-shop for penetrating markets and presenting their products and services to a global audience. For delegates and visitors, the events offer a dedicated forum tailored to their specific regional needs, putting them in touch with suppliers of solutions to their particular problems. The conferences address topical issues critical to the development of power generation in the host region. For more information please visit www.powergeneurope.com
Media contact:
Rosie Williams
Tel: +44 (0) 20 7242 8867
Email: rosie.williams@aspectuspr.com
Web: www.aspectuspr.com
Featured Product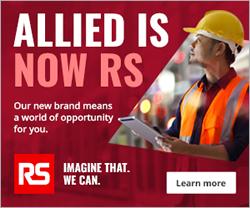 Based off the design pioneered by Anderson in 1953, the two pole SB® connectors set the standard for DC power distribution and battery connections. SB connectors feature a rugged one-piece plastic housing using stainless steel springs to retain the contacts and create the "contact force" that provides extremely low resistance enabling greater electrical efficiency. The SB connectors are also genderless (flip one 180 degrees and they will mate to each other) reducing the customer's bill of materials and providing greater economies of scale when purchasing. The SB series of connectors range in size from SB50 to the SB350. Each family size offers color-coded, mechanically keyed housings designed to prevent both visually and physically cross-mating devices with different voltages. All the connectors are UL rated to 600 volts, so the keys and colors are just identifiers to prevent accidents. Contacts are traditionally Silver plated to minimize electrical resistance while offering supreme durability and reliability.