SolareAmerica selects AET's Rayport-G ECO for 282 kW ground mount project
Carver, MA - Applied Energy Technologies (AET), a preferred supplier of commercial and utility-scale racking systems and one of the top 10 solar racking companies in the United States, announced today that it will provide its Rayport™-G ECO ground mount racking system for an innovative 282 kW highway corridor solar project along Route 44 in Carver, Massachusetts. The project is phase II adding on to the 99 kW phase I development built in 2012. The project will provide 100 percent of the power for the North Carver Water Treatment facility with additional power left over to help reduce the towns other municipal buildings.

The Route 44 Solar development is a private - public partnership cushioning the Town of Carver from the high cost of electricity in the Northeast. This solar installation is one of the first in the country to be sited alongside a major highway.
"We chose AET for this project because of their reputation for delivering a reliable, quality product at the right price point," John Scorsone, President of SolareAmerica said. "This was particularly important for the right customization necessary for this location. AET has been a tremendous partner for us in developing this unique and groundbreaking project."
"This project represents what may be the future of land use for solar installations," said Aaron Faust, VP of Business Development at AET. "SolareAmerica and the city of Carver have used the land in an innovative way to bring clean energy resources to their city. Were proud to have been chosen for this project."
The Rayport™-G ECO is UL 2703 listed and is rapidly becoming an industry standard for developers and EPCs looking for a ground-mounted system that is easy to install and delivers significant savings on total installed costs. The Rayport™-G ECO has been engineered to withstand the most challenging environmental conditions. Its light and compact design allows for high shipping density, significantly reducing freight costs and enabling easier handling on the job site.
About Applied Energy Technologies (AET)
Applied Energy Technologies (AET), a leading provider of world-class solar mounting solutions, delivers top quality engineering, manufacturing and installation (EMI) services for bankable utility and commercial-scale solar projects. With an impeccable track record of more than 200 MW in completed projects, 100% on time delivery, 100% on budget, and zero warranty claims, AET meets the highest standards in product manufacturing, design and engineering, and installation required by some of the solar industrys foremost leaders. AET has more than 30 years of product development and engineering experience, and creates mounting solutions that stand up to harsh environmental conditions, meet tough budget constraints, and are fast and easy to install. For more information, visit: http://aetenergy.com/.
Featured Product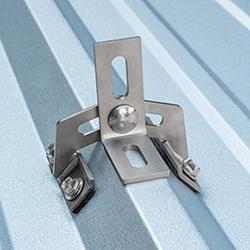 QuickBOLT Low Profile QuickBOLT with Microflashing™ is the industry's affordable, UL Certified Asphalt Shingle mounting system. The Microflashing™ is compressed by the collar on the bolt to create a water-tight seal. With an installation time of less than one minute, the Low Profile QuickBOLT allows installers to complete more jobs.