Cal Competes Spurs Additional Solar Deployment and Job Creation in Central Valley by Providing Tax Credits to Fast-growing Companies like CalCom Solar
CalCom Solar Recognized by Governors Office of Business and Economic Development with California Competes Award

Cal Competes Spurs Additional Solar Deployment and Job Creation in Central Valley by Providing Tax Credits to Fast-growing Companies like CalCom Solar
SACRAMENTO & VISALIA, CA, JUN 22, 2015 - CalCom Solar, a leader in solar project design and construction for California Agribusinesses and Water Districts, was recognized by the California Governors Office of Business and Economic Development with a California Competes Award. This newly created program distributed $47.8 million in tax credits to businesses that are creating and retaining new jobs in the state. CalCom Solar is one of the scores of California companies to receive these tax credits.
"We are thrilled to be a recipient of the Cal Competes Award. This will further enable us to expand our company operations in California, create new quality jobs on our rapidly growing staff, and accelerate the deployment of solar to meet the demand from our customers," said Nic Stover, CEO of CalCom Solar.
"To further boost economic growth and advance our way of life, California needs to do all it can to promote business growth and retention," California State Treasurer Chiang said. "The $47.8 million of credits awarded will help Golden State companies grow, prosper, and importantly, hire."
In an effort to further bolster Californias economy, the Governors Office of Business and Economic Development (GO-Biz) created the California Competes Tax Credit (CCTC) committee for companies to expand or create jobs in California. Companies interested in applying for California Competes tax credits can apply during the next application round which will be announced in the Summer of 2015. Applicants complete a free, user friendly application available on-line at www.calcompetes.ca.gov
.

The California Competes tax credit is one of the nations most effective and aggressive tools for encouraging companies to expand and add jobs in California. California is projected to allocate over $650 million in targeted tax credits over the next four years which will continue to spur job creation and investment across the state. Applicants are assessed using a formula that weighs how many jobs will be created or retained; how much the employees will be paid; the rate of poverty or unemployment in the area where the business will be located; competition from other states; and the strategic importance of the business.

About California Competes
The California Competes tax credit is part of the Governors Economic Development Initiative (GEDI) which Governor Brown signed legislation to enact in 2013 (AB 93 and SB 90). GO-Biz evaluates the most competitive applications based on the factors required by statute, including total jobs created, total investment, average wage, economic impact, strategic importance and more. Companies are exempted from paying state income taxes in the amount awarded.

About GO-Biz
The Governors Office of Business and Economic Development (GO-Biz) serves as Californias single point of contact for economic development and job creation efforts. GO-Biz offers a range of services to business owners including: attraction, retention and expansion services, site selection, permit streamlining, clearing of regulatory hurdles, small business assistance, international trade development, assistance with state government, and much more. For more information visit: www.business.ca.gov .

About CalCom Solar
CalCom Solar, a leading California-based solar provider serving agriculture and water districts, has extensive expertise in Ag energy/water-use optimization. Our founding team has 35 years of solar experience—delivering tremendous value-add for agriculture and water district customers. CalCom has developed proprietary Solar AG Energy (SAGE) analysis tools & models (http://calcomsolar.com/sage); this revolutionary tool analyzes numerous factors —including historical and future rate increases, water/irrigation patterns, crop types, etc.—to generate the most precise energy projections in the industry. For more information, please visit www.calcomsolar.com .

###


Susan DeVico
(510) 339-1527
Featured Product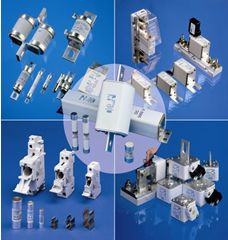 SIBA Fuses: your trusted source for all your circuit protection applications, from solar power to wind power. We are the world leaders in these applications and the most trusted name for your circuit protection needs. We have been working for over 70 years in semiconductor fuses, including ULTRA RAPID®, medium, and high voltage, standard European, miniatures, electronic fuses, and a wide range of DC rated fuses (24 VDC - 5000 VDC) for all types applications. We work with medium and high voltage fuses for protection of transformers, including submersibles, motors, medium and high voltage switchgear, compact substations, cable feeders, and high voltage capacitor circuits. New: Full line of PV UL Listed fuses and fuse holders. Contact us today for more information on our products and services.