Construction of 20MWAC facility will have significant economic impact on region ---Green Power EMC set to boost Georgias supply of clean energy
HAZLEHURST, Ga. June 18, 2015 -- Nashville-based renewable energy provider Silicon Ranch Corporation and Green Power EMC, the renewable energy supplier for 38 Georgia Electric Membership Corporations (EMCs), announce that construction is set to begin on Silicon Ranchs 20MWAC project in southeast Georgia.

Silicon Ranch has selected California-based Phoenix Solar to construct the ground-mounted solar project near Hazlehurst, Ga., in Jeff Davis County. Once completed, it will be one of the largest solar generating facilities in Georgia, occupying approximately 135 acres and incorporating over 89,000 solar modules. Furthermore, the facility will generate more than 43,000,000 kilowatt hours of clean, renewable electricity annually. That amount of clean energy offsets nearly 30,000 metric tons of greenhouse gas emissions, equivalent to the annual CO2 emissions from burning nearly 32,000,000 pounds of coal or, put another way, the emissions from more than 6,000 passenger cars.
Phoenix Solar plans to secure local subcontractors and craftsmen to provide some of the on-site work for the 6-month construction project. The solar fields construction is expected to support between 100-200 direct and indirect jobs, with a direct financial impact estimated to exceed $25 million.
Jeff Pratt, president of Green Power EMC, said the project serves as a clear signal of the companys commitment to add more solar energy to its portfolio. Under the agreement with Silicon Ranch, who will own and operate the facility, Green Power EMC will receive all the energy it produces over a 25-year period. Pratt said the 20MW project at Hazlehurst, once completed, will produce enough electricity to serve some 3,000 EMC households and will nearly double the total renewable capacity of Green Power EMC - from the current 32 MW to about 52 MW.
"We are of course excited about the environmental benefits of this project, but we are equally proud of our ability to offer the benefits of solar energy to Georgias member customers through their participating electric cooperatives," Pratt said. "Additionally, this project will bring economic benefits to the region, moving us even further down the road to providing sustainable opportunities for our member customers and the State of Georgia."
Matt Kisber, President and Chief Executive Officer of Silicon Ranch Corporation, said, "The leadership and membership of Green Power EMC deserve tremendous credit for their vision and commitment to provide competitively priced, renewable power to their membership and to the state of Georgia. As long-term owners of our projects, we take great pride in being excellent neighbors and active members in the communities where we do business and are excited about the benefits this project will bring."
Silicon Ranch Corporation is a top 15 solar owner-operator in the U.S. and provides customized solar solutions based on the needs of its customers. Silicon Ranch has been instrumental in enabling many of its customers to accomplish numerous firsts in their marketplaces. Silicon Ranch also owns and operates Georgias largest solar farm in Social Circle, Ga.
About Green Power EMC
Green Power EMC was the first green energy provider in the state. It was created by Georgias EMCs in 2001 and has been selling green energy since 2003. In addition to landfill gas generation, Green Power EMC obtains green power from renewable facilities all over the state, including low-impact hydroelectric, biomass from wood waste and solar power.
EMCs that own Green Power EMC serve more than 4.1 million Georgia residents.
For more information about renewable energy efforts in Georgia visit www.greenpoweremc.com.
About Silicon Ranch Corporation
Silicon Ranch Corporation, one of the top 15 solar owner-operators in the U.S., is a turnkey, renewable energy provider that customizes solar solutions based upon the individual needs of its customers. Silicon Ranchs value to its customers is its ability to develop and execute solar solutions that help companies build brand equity and pursue a socially responsible community benefit while allowing those companies to focus on their core business activities. Silicon Ranch has been instrumental in helping its partners accomplish numerous "firsts" in their respective marketplaces. More information is available at http://siliconranchcorp.com/.
Featured Product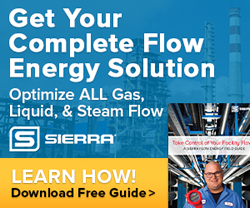 Download Flow Energy Guide - Written by Engineers For Engineers. Learn how to save on energy costs by optimizing your facility flows that impact costs like compressed air, natural gas, steam, and hot or chilled water.