Alstom and Saft's innovative energy storage goes live at EDF's Concept Grid
The Alstom-Saft consortium has successfully commissioned its smart battery energy storage system (BESS) at the EDF's Concept Grid Lab. The project is led by Electricité de France (EDF), a French electric utility company. The objective is to test battery storage in real conditions, thanks to its Concept Grid platform, for the purpose of frequency regulation in mainland France, stabilising the grid and preventing blackouts. Concept Grid, located on EDF's research site at Les Renardières, south of Paris (Seine-et-Marne region), is a real distribution network that is designed to support, test and anticipate the development of electrical systems towards smarter grids.

This contract to install a 1 MW per 30 minutes BESS was signed last year. The system consists of Alstom's MaxSineTM eStorage smart converter and Saft's Intensium® Max 20 lithium-ion battery. It converts electricity between direct and alternating current that can be stored or released into the grid. Alstom's MaxSineTM eStorage real-time energy storage management software allows electricity production to be optimised according to grid needs. Specific EDF algorithms have been implemented inside Alstom's software in order to develop and test the frequency regulation with a storage system.
The system provides producers and grid operators with a new possibility for releasing or storing energy into the grid when there is an imbalance between energy production and consumption. This is a more flexible solution than frequency regulation via power plants allowing optimisation of the power plants' generation by valuing their unused reserve capacity. These experiments by EDF will evaluate the ability of the storage system to regulate frequency. This system can also address integration of renewables and maintain grid stability. The storage system performs these actions within a few hundred milliseconds which is a real value for small grids.
This project represents yet another successful collaboration between Alstom and Saft, following the Nice Grid smart solar city demonstration project in Nice, France in late 2013. The 2013 partnership saw the successful commissioning of a 1 MW BESS for peak demand management with the integration of intermittent solar energy.
About Alstom
Alstom is a global leader in the world of power generation, power transmission and rail infrastructure and sets the benchmark for innovative and environmentally friendly technologies. Alstom builds the fastest train and the highest capacity automated metro in the world, provides turnkey integrated power plant solutions and associated services for a wide variety of energy sources, including hydro, nuclear, gas, coal and wind, and it offers a wide range of solutions for power transmission, with a focus on smart grids. The Group employs 88,000 people in around 100 countries.
Alstom Grid has one clear vision: to develop innovative solutions for a flexible, reliable, affordable and sustainable electrical grid, everywhere. We design, manufacture, install and service the power transmission and distribution products and systems that empower the planet's low carbon economy... for now and for the future.
Alstom Grid has over 130 years' experience and ranks among the top three in the electrical transmission sector with an annual sales turnover of €3.8 billion. Alstom Grid's 17,000 employees are spread across 87 manufacturing and engineering sites worldwide and have one common mission: be our customers' trusted partner, from the source to the city.
Energising a smarter world… with Alstom.
About Saft
Saft (Euronext: Saft) is a world leading designer and manufacturer of advanced technology batteries for industry. The Group is the world's leading manufacturer of nickel batteries and primary lithium batteries for the industrial infrastructure and processes, transportation, civil and military electronics' markets. Saft is the world leader in space and defence batteries with its Li-ion technologies which are also deployed in the energy storage, transportation and telecommunication network markets. More than 4,000 employees in 18 countries, 14 manufacturing sites and an extensive sales network all contribute to accelerating the Group's growth for the future.
Saft batteries. Designed for industry. www.saftbatteries.com
Featured Product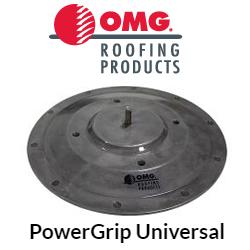 Eliminate Solar Rack Ballast and Reduce Rooftop Material Handling. PowerGrip™ Universal (PGU) is a commercial roof mount system designed to secure solar racks and other equipment to any type of commercial roofing system. PGU provides a secure connection directly to the roof deck or structural members and is designed to reduce or eliminate ballast in solar racking systems, so there's less weight on the roof and less material handling. Made of heavy-duty cast aluminum, PGU units include a base ring which is secured through the roofing cover and into the structural roof deck, and a waterproof top plate.