Spero Energy Inc. has received a two-year Phase II SBIR grant from the U.S. Department of Energy totaling $1 million.
WEST LAFAYETTE, Ind. - A company that licenses Purdue intellectual property has received federal funding to develop its one-step, patent-pending technology that could improve the efficiency of alternative fuel production.

Spero Energy Inc. has received a two-year Phase II SBIR grant from the U.S. Department of Energy totaling $1 million.
Basudeb Saha, chief technology officer, said Spero Energy will benefit greatly from the grant.
"The Phase II grant gives us the resources to further advance and commercialize our patent-pending SPERLU™ technology, or Selective Process for Efficient Removal of Lignin and Upgrading," he said. "We are currently scaling up SPERLU to assess risks and produce products in large enough quantities for market validation testing and direct comparison to current products in the market. We also are assessing unique properties of our products that may provide additional competitive advantages."
Saha and his colleagues also recognize the distinction of receiving a Phase II SBIR award from the DOE.
"Spero is honored to receive Phase II SBIR funding from the DOE, which is at the forefront in providing R&D funds to small, innovative businesses to develop high-risk, high-potential technologies that have significant economic and societal impact," he said. "This highly selective and prestigious award presented through rigorous criteria and review processes, as established by the DOE, recognizes the technical and commercial merit of the SPERLU technology."
In addition to the Phase II SBIR grant from the DOE, Spero Energy also has received Phase I SBIR grants from the DOE and the National Science Foundation, and received a $50,000 grant from Elevate Ventures, a partner of the Indiana Economic Development Corporation.
A video about Spero Energy Inc. is available at https://www.youtube.com/watch?v=90u01yi7pMk
About Spero Energy Inc.
Spero Energy Inc. is an Indiana-based technology company with the mission of developing cost competitive conversion of non-food biomass feedstock to high value chemicals (HVCs) and renewable fuels. Spero Energy is developing processes for a range of renewable specialty chemicals targeting flavor and fragrance ingredients, high-performance materials and pharmaceutical markets. For more information, visit www.speroenergy.com
About Purdue Research Park
The Purdue Research Park is the largest university-affiliated business incubation complex in the country. The Purdue Research Park manages the Purdue Technology Centers in four sites in Indiana located in West Lafayette, Indianapolis, Merrillville and New Albany. The more than 260 companies located in the park network employ about 4,500 people who earn an average annual wage of $63,000. The park is managed by the Purdue Research Foundation, which received the 2014 Incubator Network of the Year from the National Business Incubation
Featured Product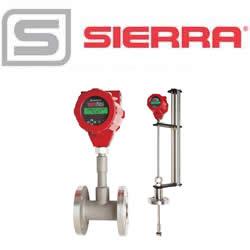 Sierra was the first to introduce a combination volumetric vortex and multivariable mass flow meter in 1997. Today, Sierra's completely redesigned InnovaMass® iSeries™ 240i/241i builds on two decades of success measuring five process variables for gas, liquid and steam with one connection. Now, with the latest hyper-fast microprocessors, robust software applications, field diagnostic and adjustment capability, and a new state-of-the-art flow calibration facility, Sierra's vortex iSeries delivers precision, performance, and application flexibility never before possible.