Systems to Be Used for Behind-the-Meter Demand Charge Management Applications
AUSTIN, TX -- 07/06/15 -- Ideal Power Inc. (NASDAQ: IPWR), a developer of innovative power conversion technologies, is pleased to announce it has received 5 MW of orders for its industry leading 30kW Battery Converter, its Grid Resilient 30kW Multi-Port Power Conversion System and its Grid Resilient 125kW Power Conversion System from multiple channel partners. The units will ship to commercial and industrial (C&I) customers for use in battery energy storage systems for behind-the-meter demand charge management applications.

Ideal Power's 30kW battery converter is widely used by industry leading developers and integrators of battery energy storage systems. Its Grid Resilient 30kW Multi-Port system, which was recently UL listed, allows direct integration of PV and battery storage without the need for a separate inverter, increasing efficiency for multi-port applications. Its Grid Resilient 125kW 2-Port system is designed for large scale applications and can scale to over a megawatt.
Ideal Power's patented Power Packet Switching Architecture (PPSA) technology enables power conversion systems that are smaller, lighter, and more efficient, resulting in dramatically lower installed costs compared to conventional systems. Ideal Power has tested its system with battery manufacturers to ensure optimal performance with different battery chemistries. Its grid resilient power conversion systems are capable of forming a microgrid to enable back-up power for critical loads.
"Our systems have seen rapid adoption in the industry for energy storage applications," said Ideal Power CEO Dan Brdar. "States such as California have an immediate and growing need for energy storage where peak demand charges can represent a significant portion of commercial and industrial customers' bills. We've worked with many manufacturers and integrators of systems designed to mitigate these charges, and interest in our technology is accelerating for this and other energy storage applications."
About Ideal Power Inc.
Ideal Power Inc. (NASDAQ: IPWR) has developed a novel, patented power conversion technology called Power Packet Switching Architecture (PPSA). PPSA improves the size, cost, efficiency, flexibility and reliability of electronic power converters. PPSA can scale across several large and growing markets, including solar photovoltaic generation, electrified vehicle charging, and commercial grid storage. Ideal Power also has a capital-efficient business model that can enable it to address these markets simultaneously. Ideal Power has won multiple grants for its PPSA technology, including a $2.5 million grant from the Department of Energy's Advanced Research Projects Agency - Energy (ARPA-E) program, and market-leading customers are incorporating PPSA as a key component of their systems. For more information, visit www.IdealPower.com.
Featured Product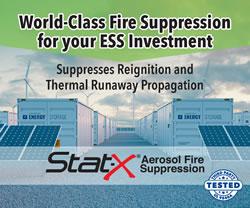 Stat-X® condensed aerosol fire suppression is a solution for energy storage systems (ESS) and battery energy storage systems (BESS) applications. Our Stat-X condensed aerosol fire extinguishing product was tested for efficacy in suppressing li-ion battery fires. It was found that the product successfully extinguished single and double cell battery fires. This testing was conducted in parallel with a large battery fire testing program on behalf of a large energy storage company.