Sullivan Solar Power Employs Three of Four NABCEP Certified Orange County Project Developers
IRVINE, California July 04, 2015

Tyler Boden, Project Developer of Sullivan Solar Power has earned the solar industrys leading recognition of technical sales expertise from the North American Board of Certified Energy Practitioners (NABCEP), and is now a NABCEP Certified PV Technical Sales ProfessionalTM. NABCEP is the most highly respected and well established national certification organization for renewable energy professionals. Designation as a NABCEP PV Technical Sales Professional is widely recognized to be the most important and meaningful certification of its kind in the solar industry.
Boden was the most recent Project Developer in Sullivan Solar Powers Orange County territory to obtain his NABCEP PV Technical Sales Certification. The office employs three of the four project developers across the county that hold this certification. The firm is one of three solar companies in the state of California, and one of only four in the United States, to achieve this gold standard in the industry.
PV is short for photovoltaic. PV systems produce electricity from sunlight. Most people have used a solar powered calculator or garden light, and have seen solar panels on roadside signs, but PV panels can be configured to produce enough energy to power a home, school, business, or even serve as a small power plant feeding electricity into the grid. As the cost of PV systems has declined sharply over the last few years, more and more households, municipalities, and companies are "going solar." NABCEP is a mark of quality assurance that the consumer can use to know that they are choosing a qualified contractor.
"Receiving NABCEPs PV Technical Sales Professional Certification gives me confidence that the solar systems that I design for my customers, meet the highest standard in the solar industry," said Boden.
To earn his NABCEP certification, Boden was required to first document relevant education and experience. He had to pass a rigorous exam that covers the breadth of the knowledge, skill, and abilities required to competently perform a solar site assessment, conduct performance and financial analysis, develop a preliminary system design, and prepare a detailed sales proposal for the customer. The exam assesses knowledge on subjects as diverse as financial incentives, utility bills and rate structures, electric load analysis, fundamentals of electrical and mechanical system design, in addition to PV system types and components.
"One thing you can be assured of when hiring a NABCEP Certified PV Technical Sales Professional is that your project wont be their first," said Richard Lawrence, Executive Director of NABCEP. "Anyone who makes the considerable effort required to earn NABCEP certification has documented their training and experience as part of the eligibility process. They have also made a very real commitment to upholding high standards of ethical and professional practice. I am delighted to welcome Tyler Boden of Sullivan Solar Power to the ranks of the industrys leading solar professionals."
Featured Product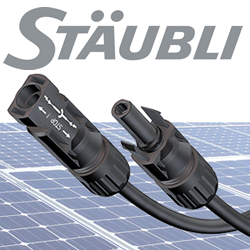 ​Stäubli Electrical Connectors are used on more than 300 GW, over 50% of the PV capacity worldwide. The MC4 family of UL and TUV listed products include connectors, in-line fuses, branch connectors, cable assembly and more.