UL's technical experts present on Smart Grid, Energy Storage and Integration of PV & Energy Storage Systems.
NORTHBROOK, Ill., July 7, 2015 -- UL LLC, a safety science organization, is proud to sponsor the electrical energy storage (ees) stage, that will give industry professionals the opportunity to showcase industry trends in the energy storage space, at 2015 Intersolar North America Conference - taking place July 13-17 in San Francisco, CA. Intersolar is the world's leading exhibition series for the solar industry and its partners. The conference will unite people and companies from around the world to advance the shared goal of increasing the use of solar power for our energy needs.

Evelyn Butler, Business Development Director, PV/Solar at UL said, "UL is delighted to sponsor the electrical energy storage stage at Intersolar North America. It's a great opportunity to showcase our integration work with product and interoperability standards, with safety, performance and bankability testing, on-site inspections and overall certification in the renewable and energy storage sector."
UL experts will be leading three thought leadership presentations on the advancement of energy storage systems.
Tuesday, July 14 from 11:30am-12:00pm - Bill Colavecchio, business development manager, electric utility services at UL, will present "Smart Integration of Distributed Energy Resources"
Wednesday, July 15 from 11:30am-12:00pm - Laurie Florence, principal engineer for batteries, fuel cells, hydrogen generators and capacitors, will present "The Energy Storage Revolution."
Thursday, July 16 from 11:30am-12:00pm - Tim Zgonena, principal engineer for distributed energy resources equipment and systems at UL, will lead a discussion on "Advancements in the Integration of PV and Energy Storage Systems."
Stop by the ees stage to learn more or visit UL at booth #8029 in the electrical energy storage area in the West Hall Level 2 of the Moscone Center. For more information, visit our website at: http://content.ul.com/intersolar2015
About UL
UL is a premier global independent safety science company that has championed progress for more than 120 years. Its nearly 11,000 professionals are guided by the UL mission to promote safe working and living environments for all people. UL uses research and standards to continually advance and meet ever-evolving safety needs. We partner with businesses, manufacturers, trade associations and international regulatory authorities to bring solutions to a more complex global supply chain. For more information about our certification, testing, inspection, advisory and education services, visit http://www.UL.com.
Featured Product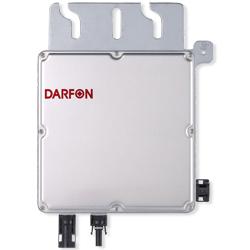 The Darfon G320 is the microinverter solution for today's high-power solar modules. The G320 handles 60- and 72-cell modules up to 350W DC and outputs up to 300W AC. The G320's 3-phase configuration accommodates the electrical distribution systems of most commercial buildings and to reduce, if not eliminate, the need for expensive transformers. The G320 comes in four voltage/phase configurations, so it can be installed in residential, commercial or utility applications.