Vans reach 20,000 miles in witnessed tests
13th July 2015 - Liverpool, UK - ULEMCo, the ultra-low emissions vehicle company championing the conversion of diesel vehicles for hydrogen fuelling, has reached an important milestone for use of hydrogen fuel in its fleet of test vehicles. Sixteen standard Ford Transits - adapted to run on dual hydrogen / diesel - have clocked up over 20,000 miles (over 32,000 km) using hydrogen fuel. The vehicles achieved ultra-low emissions of 59g of CO2 per kilometre, compared with 234g/km for the standard vehicles, equivalent to a saving of almost six tonnes of CO2 emissions for the UK to date. The figures are based on witnessed emission tests.

ULEMCo believes that this milestone is powerful support for the argument that hydrogen fuelled commercial vehicles have made the transition from the research and development stage to representing a valuable commercial option for future vehicle operation. As more hydrogen filling stations are now becoming available, the cumulative mileage achieved will increase significantly.
ULEMCo is targeting its technology at fleet owners who need to reduce their CO2 emissions but have few practical options. Vehicles in this sector need to have unrestricted range - a problem with current battery driven vehicles. They also need long working life and a high level of robustness, a package of features not available elsewhere. By converting to dual-fuel use, the range of ULEMCo equipped vehicles is actually increased, as the driver can switch between fuels as required.
The SMMT announced earlier this month that sales in the commercial vehicle sector continue to grow in double digits, reflecting higher levels of business confidence and the demand for fleets with modern, efficient, well equipped models.
According to the Department of Energy & Climate Change (DECC), Light Commercial Vehicles account for 3.2% of all the UKs CO2 emissions, so finding a practical route to cleaner operation is a national issue.
"This milestone represents an important stage in our development of hydrogen powered commercial vehicles", said Amanda Lyne, CEO of ULEMCo. "It not only demonstrates the robustness and practicality of our solution, but it sends a powerful signal to fleet owners that this is an area they need to factor into their plans for the future."
Featured Product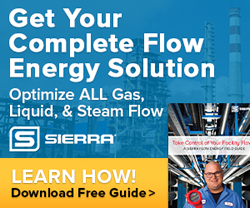 Download Flow Energy Guide - Written by Engineers For Engineers. Learn how to save on energy costs by optimizing your facility flows that impact costs like compressed air, natural gas, steam, and hot or chilled water.