New video traces companys lineage in solar-panel advances
HILLSBORO, Ore.--SolarWorld, the largest U.S. solar manufacturer for 40 years, today announced five innovations in solar power solutions. The company will unveil the products - including 300-watt, 60-cell solar panels and 350-watt, 72-cell solar panels - at its booth at the industry trade show Intersolar from July 14 to 16 in San Francisco. The booth also will celebrate the companys 40th anniversary of innovation by presenting an exhibit of its history and debuting a video chronicling its lineage of solar-technology advancement.

"Over 40 years, our customers have come to count on us to meet their very next needs in the solar marketplace with high-reliability products," said Ardes Johnson, U.S. vice president of sales and marketing for SolarWorld. "With our innovations and history on display at Intersolar, they will once again explore our anticipatory innovation. In particular, they will see our integration of multiple components into clean-energy systems of the future - right now."
Aside from historical products, SolarWorlds booth will showcase:
A 300-watt, 60-cell PERC solar panel featuring cells strung with five bus bars, the conductive ribbons that speed the flow of electricity among cells. The two additional bus bars mean electrons travel shorter distances to join the flow of electricity and therefore boost power density. At these wattages, the companys 60-cell product has approached the nameplate power of competitors 72-cell products.
A 350-watt, 72-cell PERC XL solar panel featuring the advanced-cell technology known as mono-PERC (passivated emitter and rear contact). SolarWorld is the world volume leader in producing this advanced solar cell technology. A recent report by Bloomberg New Energy Finance put SolarWorlds annual PERC production capacity at nearly two times more than that of the next biggest competitor.
The SunPac LiOn energy-storage system. SunPac LiOn features particularly high cycle stability and energy density. This product is rated for 10,000 cycles - equivalent to a service life of about 20 years. SunPac LiOn is available in several sizes in 2 kilowatt-hour (kWh) increments ranging up to 16 kWh - enough to supply a four-person household with power from sunset to sunrise. The storage system is connected on the AC side, making it independent of the solar power system, and features an off-grid back-up option, if the power goes out.
SolarWorlds reinvented Sunfix Plus rail-less mounting system. Consisting of only a few pre-assembled, light-weight components, this product eliminates long spans of aluminum from the installation, which streamlines supply logistics including transportation and storage, and saves costs, too. Integrated electrical bonding, wire management and mounting brackets for microinverters make this new product easier and faster to install than conventional racking systems, cutting time on job sites and therefore costs. The systems flexibility also makes it suitable for complex roofs and uneven surfaces. In all cases, benefits include better-looking installations.
CoolPV, an integrated PV solar-thermal product (PVT). This collaboration combines technologies of SolarWorld and U.S.-based Fafco, one of the oldest solar thermal manufacturers. The combination enables a 7-degree increase in outgoing water temperature and a 15-watt increase in power output on a 92-degree day, compared with an uncooled panel. Moreover, at a mere one pound per square foot of added weight, CoolPV is one of the markets lightest PVT solutions.
To visit SolarWorlds show location, find booth 7411 at the entrance of the main exhibit floor in Moscone Center West.
About SolarWorld REAL VALUE: SolarWorld manufactures and sells high-tech solar power solutions and in doing so contributes to a cleaner energy supply worldwide. As the largest solar producer in the United States and Europe, SolarWorld employs about 3,400 people and carries out production in Hillsboro, Ore., and Freiberg and Arnstadt, Germany. From the raw material silicon to solar wafers, cells and panels, SolarWorld manages all stages of production ‒ including its own research and development. The company maintains high social standards at all locations across the globe and is committed to resource- and energy-efficient production. Headquartered in Bonn, Germany, SolarWorld was founded in 1998 and its stock has been publicly traded since 1999. Connect with SolarWorld on Facebook, Twitter and www.solarworld.com.
Featured Product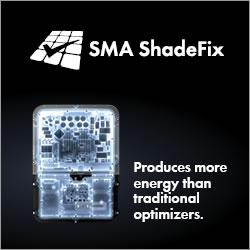 A recent university study showed SMA ShadeFix optimization produces more energy than traditional optimizers. It also utilizes far fewer components, reducing the need for costly service visits. Systems with ShadeFix optimization and SunSpec certified shutdown devices are the ideal solution for residential and commercial PV systems. Visit SMA's website to learn more and download the whitepaper.