The Certified Installer Program is building a network of highly qualified solar installers to design and install safe and code-compliant residential energy storage systems.
SAN JOSE, Calif., July 14, 2015 -- JuiceBox Energy recently graduated its 50th solar energy storage installer as part of their certified installer network. Installers around the country are joining the JuiceBox Alliance Partner program to bring advanced energy storage to their solar customers who are leading the transition to a clean and resilient grid.

The Certified Installer Program is building a network of highly qualified solar installers to design and install safe and code-compliant residential energy storage systems. The one day class is a mix of classroom presentation and practical labs and covers battery fundamentals, JuiceBox value streams, site design and finishes with an actual installation. Graduation includes a certification and a commitment by JuiceBox and the installer to work together to bring the JuiceBox system to their home markets.
"We are excited to graduate our 50th solar installer," said Neil Maguire, JuiceBox Energy CEO. "This distributed energy storage system unlocks the potential of solar energy by storing and using the energy when we need it. We are confident in the relationships and delivery capability now in place across the country to support the roll-out of JuiceBox systems."
A recent JuiceBox installation with the City of San Jose highlights that spirit of cooperation and advanced technology. A JuiceBox certified installer was contracted to install a DC coupled system. The system is designed to support daily energy peak shifting to reduce energy costs and provides back-up power.
"The City of San Jose, in cooperation with JuiceBox Energy, installed a solar energy storage system at the Gardner Community Center to establish a community resource for residents in the event of a grid failure," said Walter Lin, Energy Manager for the City of San Jose. "The JuiceBox installation team worked closely with City engineering and facility personnel to ensure a safe and professional installation."
The JuiceBox system is a plug and play battery storage and energy management system for solar energy storage. The system features an advanced 8.6kWh, 5.5kW lithium-ion energy storage system for residential renewable energy installations and a system controller that enables peak shifting, electricity demand charge reduction and back-up power for grid independence. Automotive grade redundancy and diagnostics are implemented for fault handling and fail-safe behavior throughout the system. A gateway to a secure cloud-based repository enables remote monitor and control. The indoor and outdoor rated enclosure is wall-mounted and displays key metrics to the customer. JuiceBox systems support both new and existing solar installations in a DC or AC couple configuration.
The system is on display this week at Intersolar 2015 Booth #8149 in San Francisco.
ABOUT JUICEBOX
JuiceBox Energy is a Silicon Valley based company that develops advanced energy storage and management systems to meet the growing demand for renewable energy storage. The company delivers innovative clean technologies to its customers in order to reduce both energy costs and carbon emissions and accelerates the transition to a resilient grid. For more information on JuiceBox go to www.juiceboxsolar.com.
Featured Product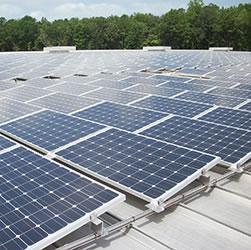 The Power Rail™ Commercial Mounting System is designed with the professional PV solar installer in mind. Both the XD/UD and LD/MD rails feature single tool assembly with the revolutionary patented RAD™ Lock-in-Place bolt for fast and secure module clamping. The high strength marine-grade aluminum rails include an integral wiring channel for securing cables and providing a professional finish.