This comes as a serious setback to the solar industry.
The Treasury has today announced, without consultation, that it is dropping plans to increase future energy efficiency and carbon abatement requirements in new homes/buildings. It has also announced that it will not proceed with the planned 'Allowable Solutions system which would have allowed house builders to offset carbon emissions elsewhere instead of installing renewable and energy saving measures in the home.

This comes as a serious setback to the solar industry which, led by the Solar Trade Association, has been working to encourage new build solar as a growing and cost-effective market.
Mike Landy, Head of Policy at the Solar Trade Association, commented:
"This retrograde and disappointing move by the Government effectively ends its zero carbon buildings policy, at a time when reducing emissions and energy bills are more important than ever."
"Solar on new build homes is a no-brainer and has widespread support. It is cheap, easy, brings running costs down and helps green our energy supply. The scaffolding is already up, the workers are on site and the solar can be attractively integrated into the roof."
"The cost of solar PV has come down by over 60% in recent years and reductions are set to continue. The occupants of new homes will be the real losers from this, paying hundreds of pounds more for their energy."
"The Government is putting environmental and energy policy into reverse at the very time its Committee on Climate Change is calling for more, not less action. To us that seems irresponsible."
Analysis by the STA shows that only around 7% of new build homes have solar on them at the moment, largely as a result of positive local authority planning policies that are also under threat from the Governments recent Housing Standards Review.
Featured Product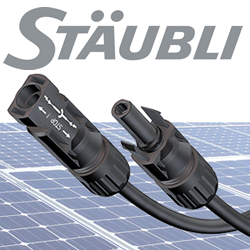 ​Stäubli Electrical Connectors are used on more than 300 GW, over 50% of the PV capacity worldwide. The MC4 family of UL and TUV listed products include connectors, in-line fuses, branch connectors, cable assembly and more.