Advanced Renewable Fuel Project will be Chinas First
Changchun, Jilin Province, China, July 16, 2015 - Today DuPont and Jilin Province New Tianlong Industry Co., Ltd., (NTL) announced a licensing agreement to begin the development of Chinas largest cellulosic ethanol manufacturing plant, located in Siping City, Jilin Province, China. The agreement allows NTL to license DuPonts cellulosic ethanol technology and use DuPont Accellerase enzymes, to produce renewable biofuel from the leftover biomass on Jilin Provinces highly productive corn farms. NTL is working to secure the necessary government approvals and support to implement this agreement.

Officials from DuPont, NTL, Siping City and Lishu County in Jilin Province praised the announcement as a milestone in the global renewable fuel marketplace. Combining NTLs ethanol production expertise with processing technology, technical support and world-class enzymes supplied by DuPont, NTL will be able to produce cellulosic renewable fuel for the rapidly growing Chinese liquid biofuel market, which is projected to exceed 1.7 billion gallons per year by 2020. "As we bring online the largest and most sophisticated cellulosic facility in the world in the State of Iowa in the United States, we are simultaneously working with leaders who share the same vision of producing the next generation of clean renewable fuels in their region," said Jan Koninckx, global biofuels leader for DuPont Industrial Biosciences. "We are honored to have found such a strong partner in NTL. The companys reputation for producing world-class grain ethanol makes it a superior candidate to put DuPonts advanced technology to work to realize the additional economic and environmental benefits of cellulosic biofuel in China."
"With its history of scientific innovation, collaboration and commitment to the ethanol industry, DuPont is an ideal partner for New Tianlong in our quest to bring the cleanest renewable fuel on the planet to China," said SUN Guojing, general manager of NTL. "We look forward to working with DuPont over the coming years as we develop the biomass supply chain, construct a world-class facility, and produce fuel that delivers on the promise of reduced pollution and greenhouse gases. This project will augment our current excellent grade ethanol offerings and business and will make NTL the preeminent biofuel product supplier in China."
This announcement is particularly important in light of Chinas aggressive goals for renewable energy, cutting its reliance on foreign oil and increasing employment opportunities for its large number of rural citizens.
An official signing ceremony took place in Changchun with representatives of both companies in attendance. Also in attendance at the ceremony were Siping City Secretary LIU Xijie and Lishu County Secretary SUN Yanjun. "This project is significant for local economic development and the launch of the clean-energy industry in the region and enjoys the full support from the local government," said LIU Xijie.
Jilin Province New Tianlong Industry Co., Ltd. (NTL) was founded in 1988 and acquired by Ginsber Beer Group in 2003. NTL is one of the largest corn refinery plants in the northeast of China with the production and sale of potable alcohol, chemical reagent (absolute ethyl alcohol), corn oil (raw material), etc. For additional information about NTL, please visit: http://www.jlsxtl.com/En/aboutus.asp.
DuPont (NYSE: DD) has been bringing world-class science and engineering to the global marketplace in the form of innovative products, materials, and services since 1802. The company believes that by collaborating with customers, governments, NGOs, and thought leaders we can help find solutions to such global challenges as providing enough healthy food for people everywhere, decreasing dependence on fossil fuels, and protecting life and the environment. For additional information about DuPont and its commitment to inclusive innovation, please visit http://www.dupont.com/
Featured Product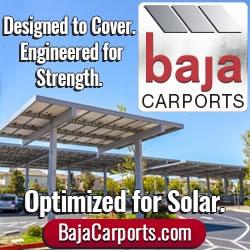 Baja Carports offers an extensive solar support system product line customized to customers' site specifications by in-house engineers, meeting their parking lot coverage, plus optimal PV production needs. Baja's Full Cantilever Tee is often paired with its Semi and Full Cantilever carports to meet live/loads up to 60psf and wind speeds to 160mph. All Baja products are pre-fabricated, bolted connections, pre-galvanized structural steel for fast on-site installation and project aesthetic requirements."