Total onshore wind installed capacity in Serbia will rise from 102.5 Megawatts (MW) in 2015 to an estimated 522 MW by 2025 ----Serbia is looking to wind as it aims for 27% of its energy mix to come from renewable sources by 2020, says analyst
LONDON, UK (GlobalData), 16 July 2015 - The total onshore wind installed capacity in Serbia will rise from 102.5 Megawatts (MW) in 2015 to an estimated 522 MW by 2025, boosted by several new projects and the government's new Energy Law, which came into effect in January 2015, says research and consulting firm GlobalData.

The company's latest whitepaper* states that while this increase will occur at an impressive Compound Annual Growth Rate (CAGR) of 48%, Serbia will reach approximately 250 MW of onshore installed capacity by 2020: only half of its 500 MW capacity cap for wind energy by that year.
According to Sneha Susan Elias, GlobalData's Analyst covering Power, Feed-in Tariffs (FiT) are the major support program for Serbia's electricity production from renewable energy sources and will help drive growth in the wind sector.
Elias explains: "Plant operators must hold Privileged Power Producer (PPP) status in order to receive the appropriate price support for electricity generation in accordance with legal requirements.
"Following completion of the power purchase agreement with the plant operator, Serbia's state-owned power utility company, Elektroprivreda Srbije, is legally obliged to purchase the total electricity produced by PPPs at an incentive price. Technologies eligible for FiTs include hydropower, biogas, biomass, geothermal, solar and wind power."
The analyst adds that while wind made up less than 0.1% of Serbia's power generation mix in 2014, investors are beginning to harness the excellent wind power potential in the regions around the mountains Jastrebac, Stara Planina, Kopaonik, Juhor, Suva Planina, Tupižnica, Ozren, and Vlasina, as well as the town of Vršac and village of Krepoljina.
Elias continues: "As wind is the cheapest form of renewable energy, apart from mini hydro, Serbia is seeking to take advantage of this power source as it bids to become part of the European Union and achieve a target of 27% of its energy mix coming from renewable sources by 2020.
"The key players at present are Continental Wind Partners, Fintel Energia Group SpA, Prenecon S.A., and Vestas Wind Systems AG, and many opportunities remain in a fledgling market," the analyst concludes.
*Serbia Wind Market: Unblocking Opportunities in the Electricity Generation Mix
Featured Product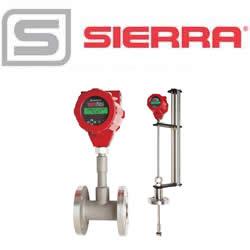 Sierra was the first to introduce a combination volumetric vortex and multivariable mass flow meter in 1997. Today, Sierra's completely redesigned InnovaMass® iSeries™ 240i/241i builds on two decades of success measuring five process variables for gas, liquid and steam with one connection. Now, with the latest hyper-fast microprocessors, robust software applications, field diagnostic and adjustment capability, and a new state-of-the-art flow calibration facility, Sierra's vortex iSeries delivers precision, performance, and application flexibility never before possible.