Schneider Electric achieved this leading position through balanced growth in all continents.
Burnaby, Canada, July 20, 2015 — Schneider Electric Solar Business, a global leader in solutions for the solar power conversion chain, is proud to announce that, according to a recent 2014 IHS report, they have been ranked third in market share for global central inverters in revenue terms, representing the highest market share growth in the segment.

Schneider Electric achieved this leading position through balanced growth in all continents, in very diverse geographies, including Japan, India, Thailand, and the Philippines for the Asia-Pacific area; the USA, Mexico, and South America for the Americas; as well as the UK, France, and Central Asia for the EMEA (Europe, Middle East, and Africa) region. The 2014 figures include partial shipments to the largest PV site built in the EMEA region, the 300 MW project, located in Cestas, France, where Schneider Electric was the chosen provider for the complete electrical balance of systems, including a 220kV grid-tie substation fitted with an advanced power plant controller driving 400 inverters in the field. Schneider Electric will also provide services for the complete solution, with guarantees on equipment availability for 20 years.
Several key factors contributed to achieving this strong market performance. Schneider Electric proposes a global and fully industrialized solution offering, based on the ConextTM Core XC and XC-NA inverter platform, and including packaged medium voltage power conversion substations (PV Box), advanced monitoring & control systems (Conext Control and Conext Advisor), low voltage DC equipment, and medium to high voltage grid-tie substation. This complete offering is suitable for shipment and installation in all types of mild to harsh environments and in compliance with varied local and regional standards.
Schneider Electric also supports its customers with global and local engineering, supply chain, and service capabilities that are paramount to support the geographic expansion of the PV market. In addition, the Conext Core XC and XC-NA platform offer a proven track record of reliability, with more than 2 GW of PV inverters operating to date, since the launch of the product in 2012. This becomes more and more important as the PV industry matures and the share of project developers increases, who own and operate their PV assets under an IPP or a "yieldco" model.
Lastly, the number of solar key accounts trusting Schneider Electric for their business worldwide represents an ever increasing portion of the companys activity.
Commenting on the market share figures published by IHS, Arnaud Cantin, Vice-President of the Power Plants Line of Business for Schneider Electric, said: "I would like to thank all the customers who entrusted Schneider Electric with the supply of critical equipment and services for their PV investments, and have enabled us to become a true global leader in the utility scale segment. By accompanying and supporting our key accounts in global development, we can avoid the risk of being exposed to high variability in single countries, and position Schneider Electric as a future leader in an increasing number of high potential geographies. I strongly believe that our current strengths, coupled with the development of new power conversion and system control technologies for both PV and energy storage applications, will enable Schneider Electric to further develop long-term business relationships with consolidating key actors, and secure our leading position in the segment."
Schneider Electrics Solar Business
Schneider Electric has over 180 years of history, with 17+ years of experience in the solar industry. As an industry leader, the Solar Business of Schneider Electric is focused on designing and developing products and solutions for the solar power conversion chain, and providing best-in-class global customer services and technical support.
To learn more about Schneider Electrics solar solution visit http://solar.schneider-electric.com.
Featured Product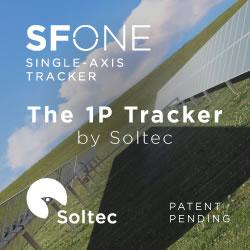 Under the slogan "engineered for greatness", the SF8 tracker aims to revolutionize the photovoltaic market with its new minimum 2x60 configuration and 4 to 6-strings. This tracker is elegantly designed while it reinforces its structure to perform in any terrain. In addition, the SF8 tracker increases the rigidity of its structure by 22% more than the previous generation of Soltec trackers, the SF7. The SF8 is specially designed for larger 72 and 78 cell modules, an increasing market trend.