"The WIND•e20 design we delivered represents our years of design, testing and refinement"
BRIGHTON, Mich.--CGE Energy (MKBY. MKBY:OTCPink) today delivered their complete and improved WIND•e20 wind turbine design to the engineering team at Burtek Enterprises, CGE Energys strategic manufacturing and assembly partner. This collection of intellectual property includes the extensive computer generated data package and complete bill of materials.

With the original turbine concept unveiled on 7/31/12, WIND•e20 is CGE Energys exclusive and patented vertical axis wind turbine that is designed for distributed energy generation. Hydraulically collapsing blades, trim-flap braking systems, and an environmentally friendly removable footing pioneer multiple advancements in wind turbine technologies and installation methods.
"The WIND•e20 design we delivered represents our years of design, testing and refinement," said one of CGE Energys design engineers Dennis Azzopardi, "Today was one of those milestone days, like seeing your child off to college. Burtek has been a true partner and aided us in implementing cost saving improvements over the past year."
Burtek will now spend the next few months re-running the in depth analysis and simulations to verify final material strengths necessary to meet the WIND•e20s 20-plus-year operating life, stringent safety requirements and energy production specifications. This final engineering check will prepare the WIND•e20 for cost effective manufacturability and mass production.
Burtek is a world leading and industry recognized full-service design, engineering, and manufacturing organization. This 5-star military contractor has recently acquiring two other well known, complex precision-fabrication entities- Process Fab, Inc and Votaw Precision Technologies- to further increase Burteks capabilities.
About CGE Energy
CGE Energy is a renewable energy and energy efficiency company headquartered in Brighton, Michigan. For more than 20 years, the company has provided energy solutions and is now offering Power Purchase Agreements. Today the company serves customers in the U.S. and abroad, using energy efficient technologies that include Cree LED lighting, their patented WIND•e20 wind turbine and SolarWorld solar generation. CGE Energy is now a publicly traded company. CGE will trade under the ticker symbol MKBY:OTCPink until FINRA approval of symbol change. http://www.cgeenergy.com
Featured Product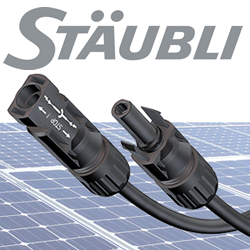 ​Stäubli Electrical Connectors are used on more than 300 GW, over 50% of the PV capacity worldwide. The MC4 family of UL and TUV listed products include connectors, in-line fuses, branch connectors, cable assembly and more.