Tompkins Cortland Community Colleges 2.6 Megawatt Installation will Meet 90 Percent of Colleges Electricity Demand
New York, N.Y. — July 23, 2015 — Borrego Solar Systems Inc., a leading designer, developer, installer and financier of grid-tied solar photovoltaic (PV) systems, announced today the completion and operation of a 2.6 megawatt (MW) solar PV system on Tompkins Cortland Community Colleges (TC3) main campus in Dryden, New York. TC3s solar PV system is expected to meet 90 percent of its electricity demand, generating the equivalent amount of electricity needed to power approximately 440 homes annually.

TC3 will purchase the clean energy produced from the solar energy systems owner over the 25-year term of the power purchase agreement. TC3 expects to realize first-year savings of approximately $30,000, with potentially greater annual savings as retail utility rates increase over time.
"The leadership at TC3 took action to control the colleges energy costs and carbon footprint at an ideal time in New York," said Amy McDonough, senior project developer at Borrego Solar. "There are incentives and solar friendly programs available statewide that make going solar for New York public entities the easiest and most cost effective its ever been. Borrego Solar is working with colleges statewide looking to take control of their energy costs and reduce their risk in the face of rising energy prices."
The new solar facility will allow TC3 to replace the majority of its fossil fuel-generated electricity with renewable energy. This means cleaner air and water, fewer greenhouse gas emissions, and a healthier climate for future generations. The installation will offset 2,160 metric tons of CO2 annually, which is the equivalent of taking 455 cars off the road or the amount of carbon sequestered by 1,771 acres of U.S. forests each year.
The project has been made possible in part by New Yorks solar policies, which have supported rapid development through incentives, supportive permitting procedures and other programs to get more solar deployed. This past spring, the States NY-Sun initiative awarded $46 million for large-scale solar energy projects through the NY-Sun Competitive PV Program administered by the New York State Energy Research and Development Authority.
TC3, one of the 64-member institutions of the State University of New York system, serves more than three thousand students on its 220-acre campus.
About Borrego Solar
Established in 1980, Borrego Solar Systems Inc. is one of the nations leading designers, developers, installers, O&M providers and financiers of commercial and utility solar power systems. Borrego Solars photovoltaic systems are efficient, reliable and cost-effective. With more than three decades of experience and more than 1,100 solar power installations completed—totaling over 150 megawatt—Borrego Solar offers a complete line of solar system design and installation services throughout North America. Borrego Solar was the 2nd largest commercial solar installer in the United States in Q1 2015, according to Greentech Media Research. For more information, visit www.borregosolar.com.
Featured Product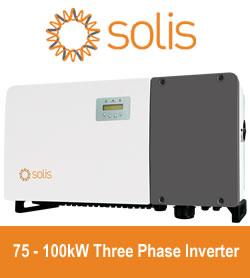 Solis75kW - 100kW series high-power string inverters are widely used in industrial and commercial rooftops. Solis's new three-phase string inverter is the first choice for industrial and commercial photovoltaics. 75-100kW three phase series string inverter have Maximum 28 strings input, support "Y" type connection in DC side. Maximum string input current 13A, support bifacial modules access.Supports anti-PID function to improve system efficiency.