As new PV installations stall, the emphasis in Europe is on the O&M market. As this competitive industry continues to grow and thrive, strategies are being established to improve O&M provision to enhance plant performance.
New installations of solar PV are falling, but the European O&M market is still going strong.

EPCs and developers placing more emphasis on operational assets in the wake of damaging cuts to FiT schemes, non-O&M companies developing new business lines to services the O&M markets, and the secondary market of new owners keen to achieve optimum performance, are driving a competitive O&M market.
Energy output has never been more essential: "If you do energy trading and you have to sell your energy in advance, then you can be penalized if you dont deliver the energy. Its a double hit" says Stefan Mueller, COO, Enerparc.
The impact of O&M practices on output and yield is clear: "A 1% increase in the performance of a system can translate into as much as a 10% increase in profit" comments Stefan Degener, Senior Director O&M EMEA, First Solar.
As assets age the O&M market is likely to remain active. Another driving factor is that the financial community is not yet convinced of the stability of PV revenue, and it is up to O&M to reduce performance risk through proven and effective yield-enhancing practices. For these same suppliers, a trend towards "simpler and cheaper" O&M contracts is expected (Angelo Guardo, Manager Technical Services, Enel Green Power).
Several key strategies for improving O&M have been established:
• Identifying and controlling under-performance
• Developing in-house capabilities versus out-sourcing
• Centralizing and automating monitoring processes
• Geo-tagging and smarter systems
• Advanced data analytics
• Robotics and drones
Featured Product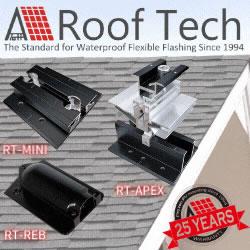 Now Roof Tech brings you the most innovative, watertight mounting systems ever developed for solar photovoltaic systems. Designed and manufactured exclusively for us by Japan's longtime leader in roofing technologies, Roof Tech products are 100% code-compliant and offer fast, simple installation and huge savings on shipping costs due to their compact, rail-less design. Learn more about our full line of versatile PV mounting solutions now available for residential installations. The next generation in rooftop solar mounting solutions."