This marks the third country in which the two companies have joined forces, following their successful launches in the Netherlands in 2014 and in Germany earlier this year.
LONDON and OAKLAND, Calif., July 29, 2015 -- E.ON UK and Sungevity Inc., a leader in the international solar market, today announced a new 'Go Solar' regional program in the UK, offering customers solar panel systems for their homes. This marks the third country in which the two companies have joined forces, following their successful launches in the Netherlands in 2014 and in Germany earlier this year.

Go Solar includes Sungevity's 20-year 'SunSure' guarantee which reassures customers that if their solar panel system doesn't produce at least 95 percent of the electricity quoted, they'll receive a payment to help cover the shortfall over the 20 years.
The Go Solar program will first be piloted in the Midlands and the North of England and is expected to expand to other regions in the future. The collaboration between the two companies looks to build on the country's developing solar market. According to a report by Solar Power Europe, Britain led the European solar expansion in 2014, adding 2.4GW of solar resources to the domestic market and a third to Europe's overall 7GW of growth.
Go Solar customers will also reap the benefits of Sungevity's remote solar design software and proprietary iQuote technology which uses satellite and aerial imagery to provide customers with an accurate system design and quote without the need for upfront home visits. Quotes include estimated cost savings over conventional energy sources based on historical consumption rates. The easily accessible online model also enables customers to monitor the performance of their systems 24 hours a day.
"This is an exciting opportunity for E.ON to enter the residential PV market with a unique solution. It very much fits our strategic aims in terms of customer focus and the potential for home-based renewables," said Susana Quintana-Plaza, Senior Vice President Technology & Innovation at E.ON. "Customers will be offered an innovative and high quality service backed by our established and trusted brand," she added.
In 2014 E.ON UK's parent company, E.ON SE, participated in a $70 million investment round for Sungevity. E.ON then announced its collaboration with Sungevity in the Netherlands in June 2014 and Germany in May 2015. The collaboration in the UK is in line with E.ON's strategy to offer customers innovative energy solutions, and further demonstrates its commitment to investing in technology and innovation to ensure customers are able to save energy and money in the future.
"Our UK expansion is a prime example of how a global utility and solar provider can work collaboratively to change the energy landscape across the world," said Andrew Birch, CEO, Sungevity, Inc. "Extending our alliance with E.ON to the UK is another key step toward enabling a more sustainable global future for generations to come."
Go Solar customers will benefit from:
* Remote assessments: the latest online technology is used to assess whether a customer can benefit from having residential solar panel systems installed using satellite and aerial imagery to remotely assess the customer's property, without the need for an initial onsite assessment;
* Remote design service: customers are offered a remote design service which allows them to see how the panels will look on their homes prior to installation, as well as a quote tailored to their individual energy and property requirements;
* Online tools: customers will have access to free online tools to help them effectively monitor the performance of their system, anytime and anywhere;
* Single online point of contact: customers will have a dedicated Online Account Manager throughout the assessment, installation and post-installation process.
The Go Solar program is currently available to consumers in the Midlands and the North of England.
To find out more about Go Solar and to apply, visit eonenergy.com/solarpanels.
ABOUT THE SUNSURE GUARANTEE
If a customer's solar panels underperform, Sungevity will make a SunSure payment for each kWh not generated, up to 95% of the customer's quoted generation for that year. Any generation over 95% in previous years will be used against this shortfall. Payments will be based on an assumption that half of the customer's generated electricity is exported to the grid and will use the average standard overall UK electricity price, the deemed Export, and Generation Tariffs all set by DECC that year. See full terms and conditions at eonenergy.com/SunSure.
ABOUT SUNGEVITY
Sungevity is a technology-driven solar energy company focused on making it easy and affordable for homeowners and business owners in the US and Europe to benefit from solar power. Leveraging proprietary remote solar design technology, Sungevity can deliver a quote without a site visit and provide prospective customers with visibility to potential savings on their electricity bills. The company continues to grow its customer base and now services 12 US states, the District of Columbia, the Netherlands, the UK and Germany. Sungevity is also the residential solar partner to Lowe's, and was recognized in 2015 by B Corp as one of the "Best for the World 2014" companies for environmental impact. For more information, visit www.sungevity.com.
ABOUT E.ON
E.ON is one of the UK's leading power and gas companies - generating electricity, and retailing power and gas and is part of the E.ON group, an international privately-owned energy supplier. In the UK, E.ON supplies electricity and gas to around 5 million residential and business customers and is committed to helping its customers use and pay for no more energy than they need. For more information, visit eonenergy.com.
Featured Product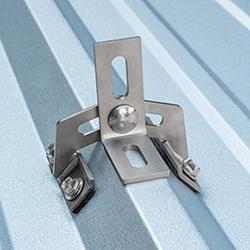 QuickBOLT Low Profile QuickBOLT with Microflashing™ is the industry's affordable, UL Certified Asphalt Shingle mounting system. The Microflashing™ is compressed by the collar on the bolt to create a water-tight seal. With an installation time of less than one minute, the Low Profile QuickBOLT allows installers to complete more jobs.