China's massive appetite for biomass energy, Japan's challenges of sustaining biomass feedstock sources, South Korea's mature biomass supply chain as well as India's untapped biomass potential are the top topics at the annual 6th Biomass Pellets Trade & Power summit on 14-17 September, 2015 in Seoul.
China -- the biomass import hotspot will take centre-stage at this annual conference with featured sessions on 'Current Situation, Developments, Biomass Pellet Standard, Import Requirement & Procedures' by De Li, Director, Beijing Windbell Technology, an update on 'Regulatory Policy Development in Biomass Utilization' by Zhang Weidong, Programme Manager, UNDP as well as an review on current projects owned by China's major biomass power player -- Everbright.

Separately, an assessment on 'Japan's Biomass Market Development' will be provided by Mitsubishi UFJ Research and Consulting while Ministry of New and Renewable Energy, Government of India will share views on 'Scope for Expansion of India's Biomass to Power & WTE Capacity'.
The agenda will also touch on biomass supply side with sessions like 'Wood Pellet Supply Outlook in Vietnam & Product Specification Development' by Nguyen Tan, Sales Manager, CellMark and an export market perspective on 'Palm Biomass -- PKS, EFB, Palm Pellets' by Md. Arfizal Md Ariffin, Executive Director, Detik Aturan and Stephen Lim, COO, Global Green Synergy.
In view of the current situation, Indufor will address developments influencing biomass demand in North Asia, and Korean Power Gencos comprising KOSEP, KOSPO, KOWEPO, EWP and KOMIPO will sit in a special panel discussion on 'Biomass Utilisation/Demand & Clarification on Import Requirements'.
Other key sessions include:
• Biomass Market Trend in South Korea -- EnerOne
• Supplying North American Wood Pellets into the Asian Markets. Pros & Cons vs. Current Biomass Alternatives -- RWE Supply & Trading
• Global Trade Outlook of Wood Pellets & Sustainability Requirement in Europe & Asia -- Hawkins Wright
• Structuring Waste/Biomass-to-Steam Projects & Financing -- EnerOne
As a value-add, a workshop on 'Practical Effects of (bio-) mass Procurement Strategies on Downstream Conversion Processes' led by Energy Research Centre of the Netherlands and a Site Visit to KOSPO's Sam-Cheok Green Power Plant, Gang-won (South Korea) are arranged on 14 and 17 September, 2015, respectively.
For more information, call Ms. Hafizah at +65-6346-9218, email hafizah@cmtsp.com.sg.
Source: Centre for Management Technology
Featured Product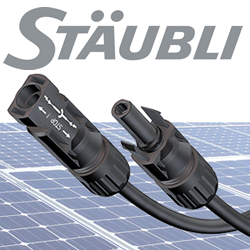 ​Stäubli Electrical Connectors are used on more than 300 GW, over 50% of the PV capacity worldwide. The MC4 family of UL and TUV listed products include connectors, in-line fuses, branch connectors, cable assembly and more.