Designed to help new and established sales-focused companies make an easy transition into the solar energy industry.
SALT LAKE CITY - Suncrest Solar, Inc., one of Americas fastest growing residential solar energy providers, announces the release of its partner program, Suncrest ProAlliance. The ProAlliance program is designed to help new and established sales-focused companies make an easy transition into the solar energy industry.

"For the past several years Suncrest has been a leader in the residential solar industry, selling and installing rooftop solar systems. This leads to a very unique opportunity for our partner program," said Suncrest President John Corliss. "Suncrest performs 100 percent of the system fulfillment functions in-house, and we have created custom tools to automate and simplify the sales process for our partners. This scalable, streamlined operating environment for our partners provides every customer with a consistent, world-class experience."
To lead the ProAlliance program, Nick Perry, director of business development, joined the Suncrest management team.
"Nick brings a wealth of knowledge and experience in partner programs and is the perfect person to direct this channel," said Josh Hatch, senior vice president of sales. "This is an ideal program for companies to get into the solar space with a proven partner in Suncrest Solar. We look forward to working closely with our partners, providing the tools, systems and solar experience necessary to ensure success. This is a really exciting time for Suncrest and our partners."
Having recently secured an investment from Tenaska, one of the largest privately held companies in the U.S., and with the continued backing from private equity fund Sorenson Capital, Suncrest is continuing to rapidly expand. The ProAlliance program will help the companys aggressive expansion plans and allow Suncrest to reach more homeowners across the country.
"We are confident that the addition of the ProAlliance program will help us to expand to other markets throughout the U.S.," said Hatch. "Suncrest is excited to open this program and welcome many more partners as we continue to provide homeowners across the country best-in-class service."
Companies interested in becoming ProAlliance partners can get more information by contacting Nick Perry at 561-214-3528 or nperry@suncrestsolar.com.
Suncrest designs, permits and installs solar panels on the roofs of residential electric utility customers. Electricity produced by the solar panels is fed directly into the home. Excess electricity produced by the rooftop panels is sold into the electric grid. Suncrest sold approximately 700 solar systems since its inception.
About Suncrest Solar, Inc.
Suncrest Solar (suncrestsolar.com) is a residential solar company thats dedicated to building a brighter future. Suncrests business model is designed to bring clean, affordable energy to residents in California and surrounding regions. Suncrest has sales and installation locations in the Inland Empire, Orange County and San Diego, California. The companys hub performs engineering, design, permitting, accounting and administrative activities in the Salt Lake City, Utah, office.
Featured Product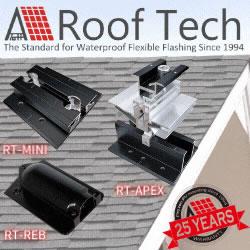 Now Roof Tech brings you the most innovative, watertight mounting systems ever developed for solar photovoltaic systems. Designed and manufactured exclusively for us by Japan's longtime leader in roofing technologies, Roof Tech products are 100% code-compliant and offer fast, simple installation and huge savings on shipping costs due to their compact, rail-less design. Learn more about our full line of versatile PV mounting solutions now available for residential installations. The next generation in rooftop solar mounting solutions."